Why should you attend Christmas Nights at 123 Farm? Here are 7 reasons why 123 Farm Christmas Festival is a must-do during the holidays in Southern California.
The magic! The holiday spirit! The thousands of twinkling lights! The hot chocolate. Even the cold biting at my fingertips made me feel the spirit of the holidays.
When you love something so much, you have to write about it.
123 Farm at Christmas is a place that transports you to an enchanting place and brings out your inner child. From the moment our car rolled into the farm, glowing from the thousands of lights, I started to sing Christmas carols.
We haven't been this excited since attending Disneyland during the Holidays. 123 Farm does a fantastic job of capturing the joyful spirit of the season… without breaking the bank.
You can purchase entrance tickets and enjoy Christmas nights at 123 Farm, have a magical night without spending extra unless you want to. Just a stroll around the farm is enough to get you in the holiday mood, and there is plenty of room for kids to run around.
Disclosure: This post may contain affiliate links. If you decide to make a purchase from one of those links, we may get a commission at no extra cost to you. We appreciate your support.
If you're looking for a fun and festive event to help celebrate the holidays with your friends and family, the 123 Farm Christmas Festival is it. It's a great night out with the perfect combination of holiday spirit, yummy treats, and plenty of activities for everyone.
You can also meet Santa, book a horse carriage ride, enjoy s'mores under the stars, drink holiday cocktails, shop for thoughtful and unique Christmas gifts, and more.
This is one of our favorite magical Christmas events near Los Angeles, and worth the drive there. If you're feeling "Grinchy" or a little "buh-humbuged," a visit to 123 Farm will cure it and have you singing Christmas carols, too.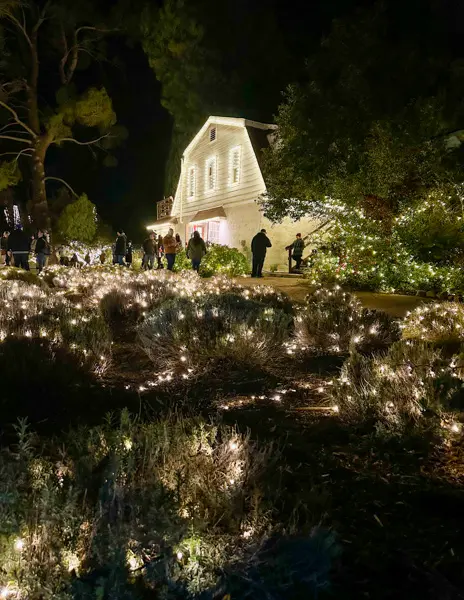 Note: We are not affiliated with 123 Farm or sponsored by them. We independently purchased our tickets and are sharing our experience.
Where is 123 Farm Located?
123 Farm is located in Cherry Valley in Beaumont, California. Not too far from we go apple picking in Oak Glen.
Their address is: 10600 Highland Springs Ave, Beaumont, CA 92223
When does 123 Farm Christmas Nights Festival open?
Christmas nights at 123 Farm festival usually start in early November and run to the beginning of January.
For 2022, the festival runs from November 4, 2022, to January 8, 2023.
Visit the 123 Farm website for detailed information and to book tickets online.
How far is 123 Farm from Los Angeles?
123 Farm is about 80 miles away from Downtown Los Angeles. It s a 1 hour and 30-minute drive from Los Angeles to 123 Farm in Cherry Valley.
Is it worth visiting Christmas Nights at 123 Farm?
YES. 123 Farm is worth visiting. Not only is it worth the value, but the farm is highly festive, and they do a great job of creating an atmosphere that is both magical and fun. The lights, the decorations, the food, and the activities will give you and your family a memorable experience.
Reasons to Visit the 123 Farm Christmas Festival
1. All the Dazzling Lights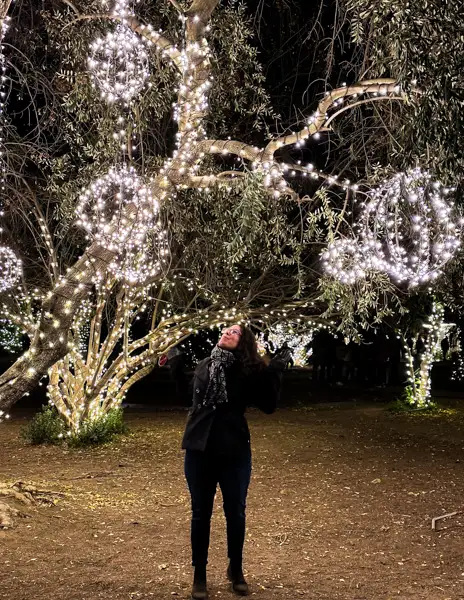 123 Farm transforms into a winter wonderland during the holidays! The farm is decorated with thousands of lights, creating a magical experience that everyone of all ages loves.
The farm glows! You see it from the moment you're driving up the road. And you wonder how many person-hours it took to set this up? Well worth the love and effort that is put into this.
It wouldn't surprise us if 123 Farm had more lights than Main Street, Disneyland. If you've been to both, what do you think?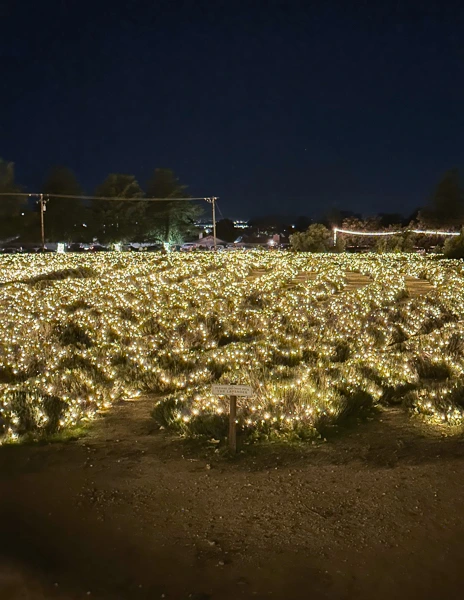 Blankets of lights decorate their lavender fields with over 300,000 lights. String lights hang from a beautiful oak tree. A Rockefeller size Christmas tree glows above a pond, where you can cross a short bridge to get a better view. Their olive grove, small vineyard, trees, and ponds around the farm twinkle with white lights and decorations.
2. Holiday Activities & Treats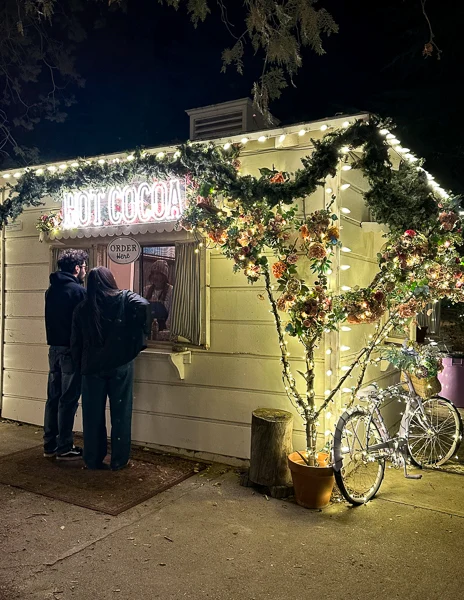 There are plenty of holiday activities and treats around the farm, from private s'more pits, horse carriage rides, meeting Santa, food vendors, and more. If you plan it out, book a couple of these things in advance, like the Carriage Rides and the S'mores Pit on their website.
Photos with Santa are free at Santa's Workshop, but he's around on certain days, mainly on the weekends.
Take advantage of checking out the holiday maze that is included. 
For holiday food and treats, you'll find some near the s'more pits, sourdough pizza, other rotating food vendors, and holiday cocktails.
But if you're looking for more, head to the Eatery in the main lobby, where you'll find other menu items like mac n' cheese, sourdough bread bowls, fried chicken sandwiches, and more.
FYI: While we are always about supporting small businesses and trying new treats, depending on when you go, you may find incredibly long lines. We don't recommend getting there super hungry. 
3. The Lavender Hot Chocolate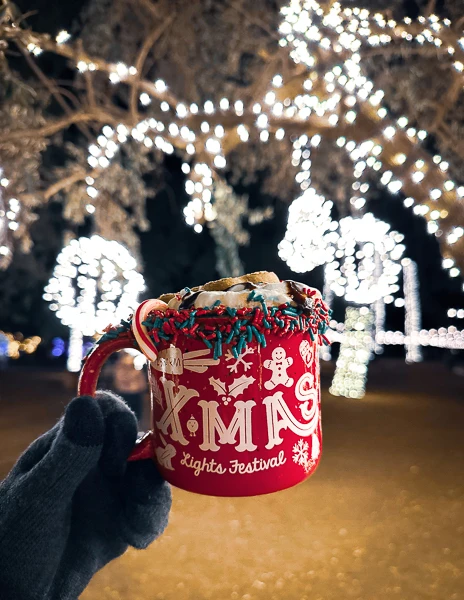 The 123 Farm's lavender hot chocolate deserved to be on its own because it's that good. It's a tasty itinerary treat you must have when you're there.
It brought me back flashbacks of my Abuela's hot chocolate. It is sweet and chocolaty but not overly. Promise that the lavender is subtle, and you'll mostly taste the hot chocolate flavor.
You can also get regular hot chocolate.
The hot chocolates are topped with whip cream and then with sprinkles, served in a festive to-go cup.
We went the extra mile and purchased their hot chocolate with their Christmas mug for an additional cost. The rim of the mug was covered in chocolate and sprinkles. It's topped with whip cream and a gingerbread man, with peppermint candy on the side.
We love the mug. It's red, keeping the theme of Christmas, and it's a large cup, too. Currently drinking my morning coffee out of it.
Top Los Angeles Attractions
Visiting Los Angeles, California? Planning to explore and be a tourist in LA. Walk amongst the stars on Hollywood Blvd. See the spectacular views of Los Angeles from the Griffith Observatory. Take a short ride on Angel's flight. Here are the top attractions in the city of Angels.
4. Charming Photo Opportunities
Have your cameras or mobile phones ready! The farm is filled with photo opportunities to get that holiday photo.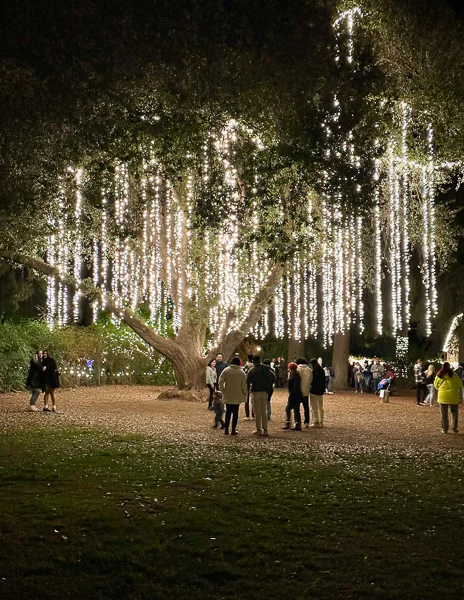 A popular spot is the Glistening Willow Tree, an Oak Tree with strings of lights hanging from it, making it appear like a holiday willow tree. You'll see everyone crowded around it (guilty), but remember that the farm is filled with similar magical spots and moments.
Our other favorite spots:
1,000 Year Old Oak Tree (the other Oak tree)
The Olive Grove
The Huge Christmas tree near the Glistening Willow Tree
The Lavender Fields
5. The Wonderful Aroma Around the Farm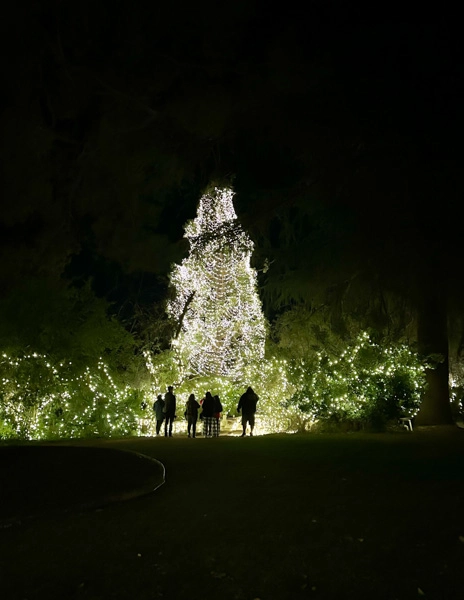 Walking around the farm, you're hit with various delightful scents from the lavender, pine trees, holiday treats, and mother nature. It's so refreshing and enjoyable.
Being from the city of Los Angeles, that fresh air is something we're not used to, but we can't get enough of it outside the city.
6. It's Worth the Value
123 Farm is a great place to visit, and it's worth the value per person ($20 per person). These Christmas events can get expensive, but after attending other events in LA, this is a deal in comparison. 
You're getting so much more out of the experience at 123 Farm. You will leave feeling merry and bright!
Once inside the farm, you can spend as much or as little as you want. You can enjoy the grounds, the lights, the photo ops, and the time with your loved ones without feeling forced to spend anything.
Expect the food and drinks to be slightly expensive, like being at Disneyland. It's up to you whether you want to eat there or not.
7. Unique Shopping Opportunities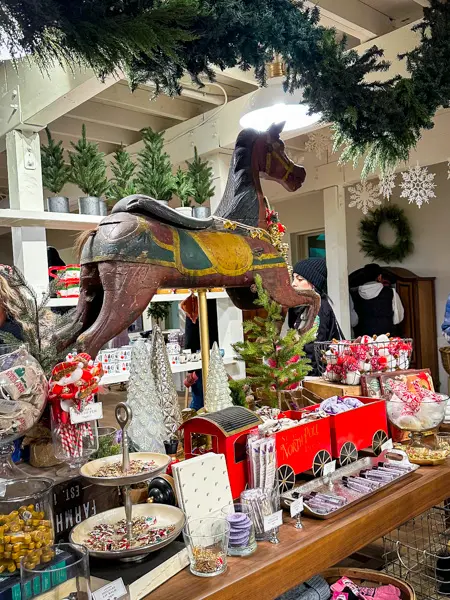 123 Farm has several unique shopping opportunities to buy something special for yourself or a gift for someone.
We loved all the unique lavender products produced by 123 farm's lavender. From creams, essential oils, sleeping aids, and more, you'll find something special here at 123 Farm Organic Galleries.
You can also find local vendors in their cottages, each with a unique item to purchase. We found nuts, dates, chocolate, and handcrafted items… to name a few.
Back at the Sourdough Bread Hall & Black Bench Wines, where you can also find the main lobby and the Eatery, we picked up sourdough bread rolls to take home with us. Here you can also buy lavender syrup and olive oils, which would make excellent foodie gifts.
Fun Day Trips from Los Angeles, CA
If you're looking for a way to escape the hustle and bustle of Los Angeles, then these day trips are perfect for you! From stunning beaches to awe-inspiring mountain ranges, there's something for everyone.
Top Tips for Visiting Christmas Nights at 123 Farm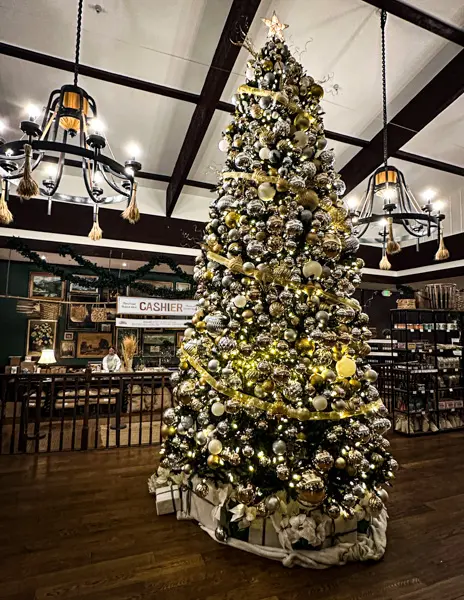 Book your tickets online.
Book your parking when you book your tickets online. They will turn you away if you try to buy parking at the front entrance. General parking was good enough, and it was inside the farm. Yes, it's an additional cost, but the entire night was cheaper than other holiday events in Los Angeles.
You can park outside of the farm if you find street parking. You can try to save yourself the $10, but it was easier for us to have our parking sorted out when we got there to save time.
Choose an early entry, so you have enough time to explore the farm. Every time we turned a corner, it seemed we had found something new.
Use the map they provide you so you can catch everything.
Expect lines for food, drinks, and activities, like meeting with Santa. Have patience.
If you want to spend less on food, eat dinner before arriving. Save for the hot chocolate.
Dress warm! It was so cold when we were there. The temps drop at night. We had our gloves and scarves on. If your hands are always cold, bring hand warmers.
If you are looking for a magical, festive escape from the city, the 123 Farm Christmas Festival is a must-do during the holidays in Southern California. From unique shopping opportunities to fresh air and warm drinks, 123 Farm will make you merry and bright!
Have you been to 123 Farm at Christmas?
Looking for other fun holiday events and activities in Los Angeles and surrounding areas? Check out: Christmas in Los Angeles.
Don't forget to share the love on Pinterest: