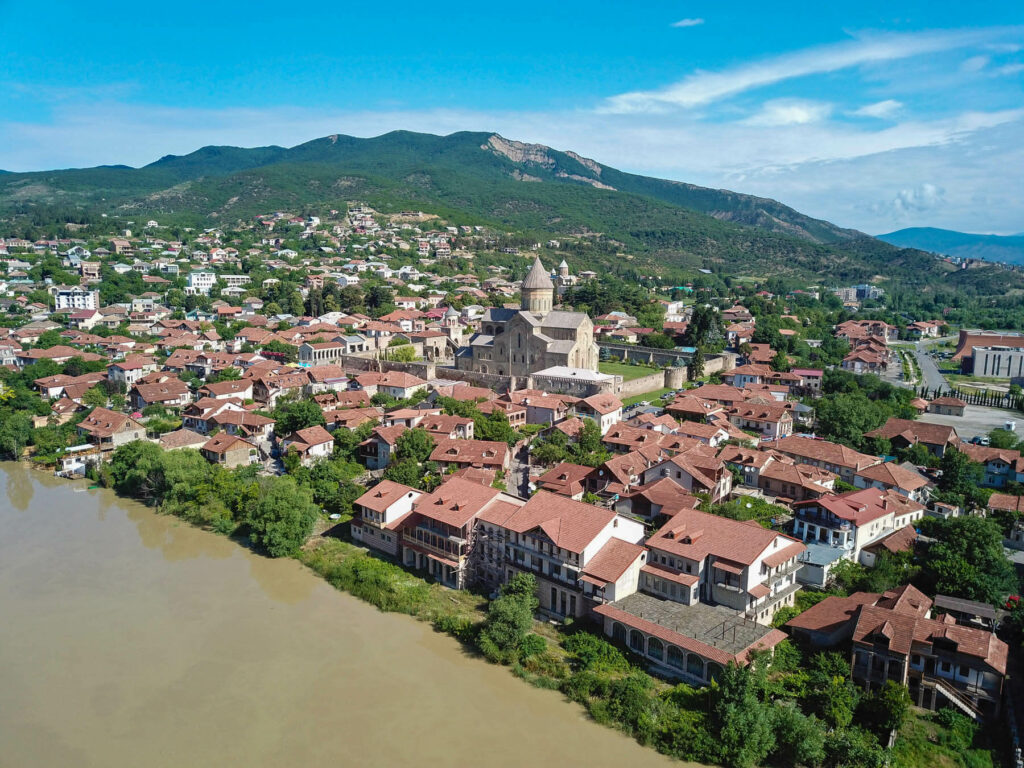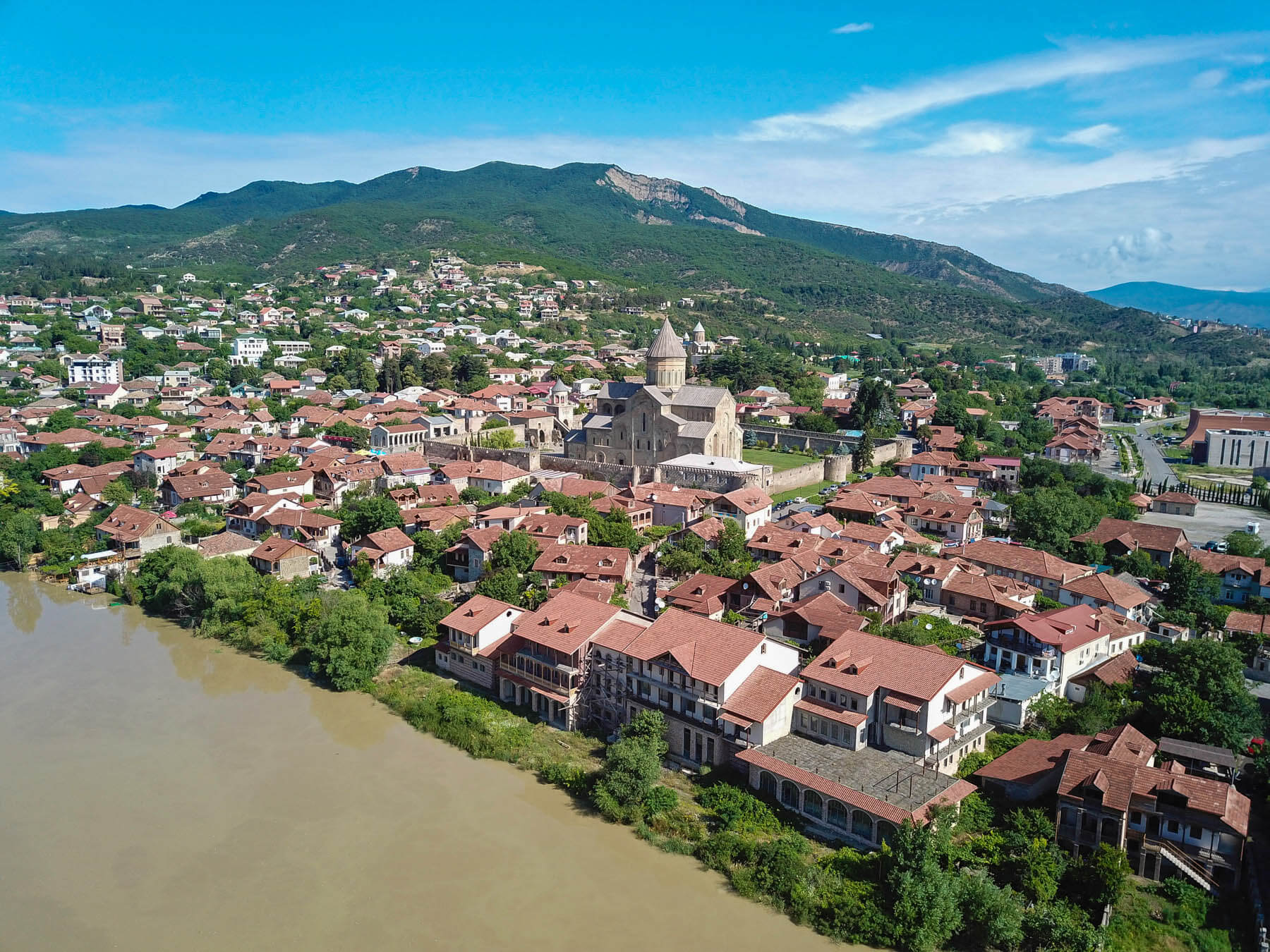 This post contains 7 short, 1-day trips from Tbilisi that can be reached in up to 2 hours (by public transportation).
Having lived in Tbilisi for nearly a year, I can definitely confirm that, along with Kyiv, this is my favorite capital in Europe.
It has a friendly atmosphere, great food options, cozy bars, plus there are so many things to do, that you could easily spend your entire trip based there, doing occasional day trips from Tbilisi.
Georgia is actually a tiny country, where you could easily visit half of it on a day excursion from Tbilisi, but this post contains the easiest, shortest day trips.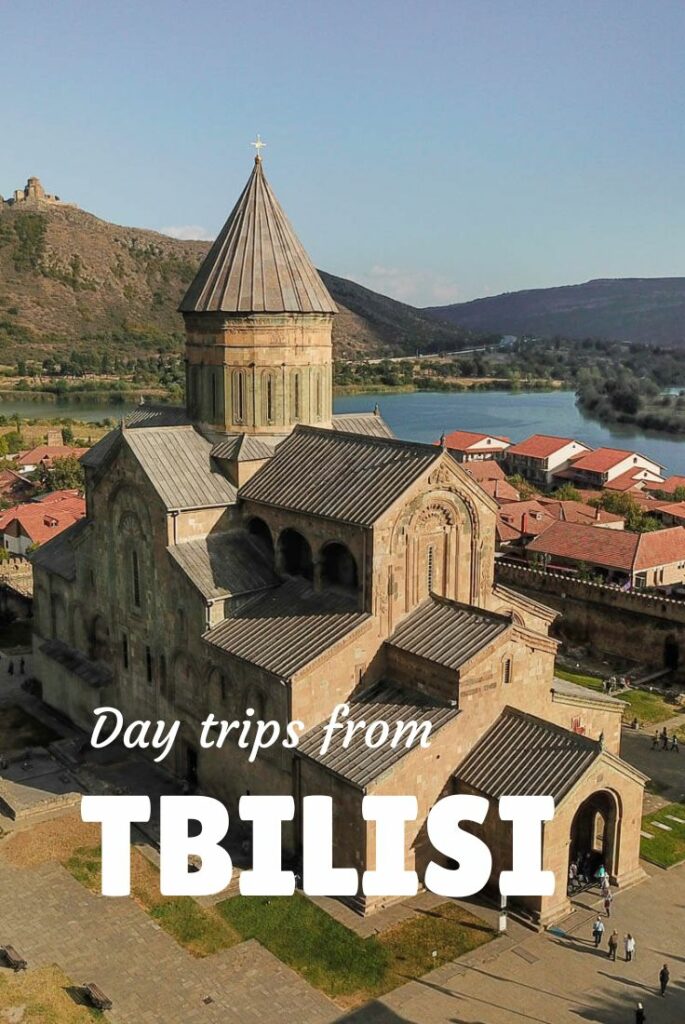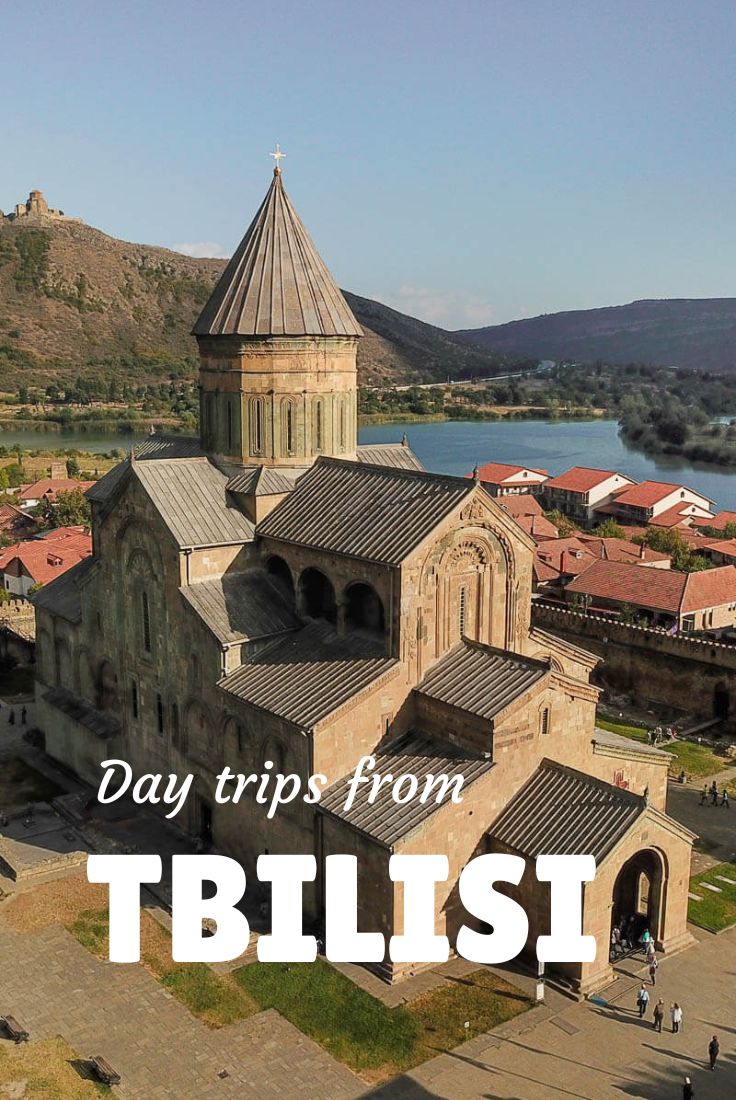 Get travel insurance for trekking in Georgia
I strongly recommend IATI Insurance as it provides coverage for a very big bunch of adventure activities.
Get an exclusive 5% discount if purchasing via this link
Day trip to Rustavi from Tbilisi
Rustavi is a city 30km south of Tbilisi, an unusual day trip from Tbilisi since I have never met any tourist who has visited it.
I came here with friends who lived in Tbilisi, and we had a great time because we were supposed to meet with a local friend who was a politician, and he showed us around, took us to have some really good wine, etc.
It is not the best place to visit in Georgia, but the center of town is beautiful, especially because all the buildings that comprise downtown were designed and built by German prisoners of WWII, so the different facades and styles are German.
Rustavi is a new city, built in 1948, aimed at being Georgia's leading industrial center.
The number of people living in the city quickly grew as Georgians went there from the whole country, especially Svaneti.
There is a park with a ruined fortress and a few Communist things worth checking out.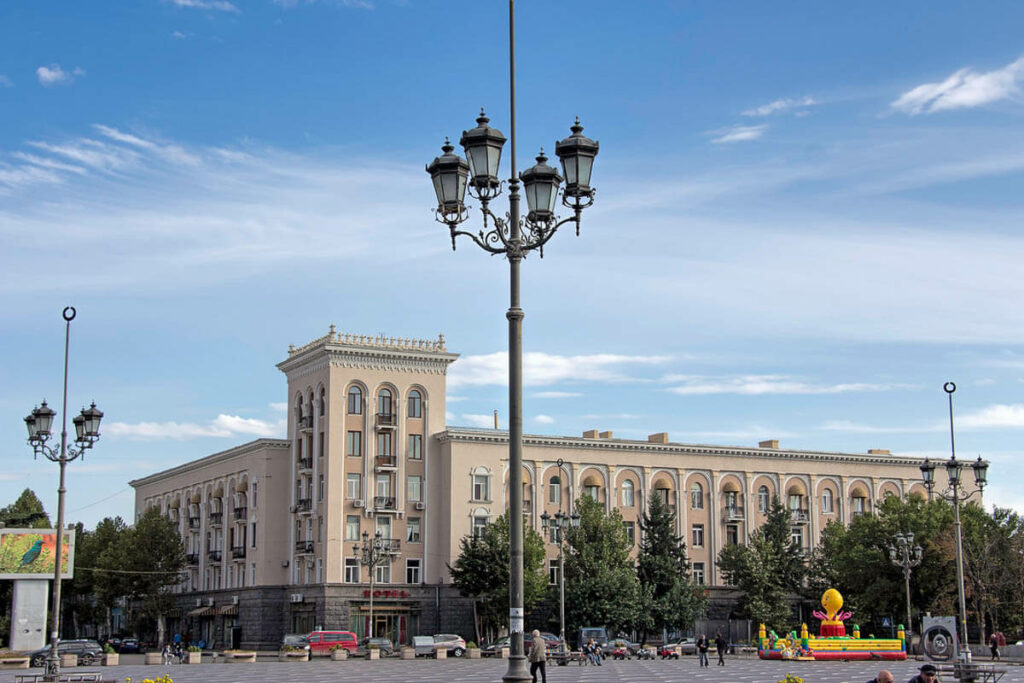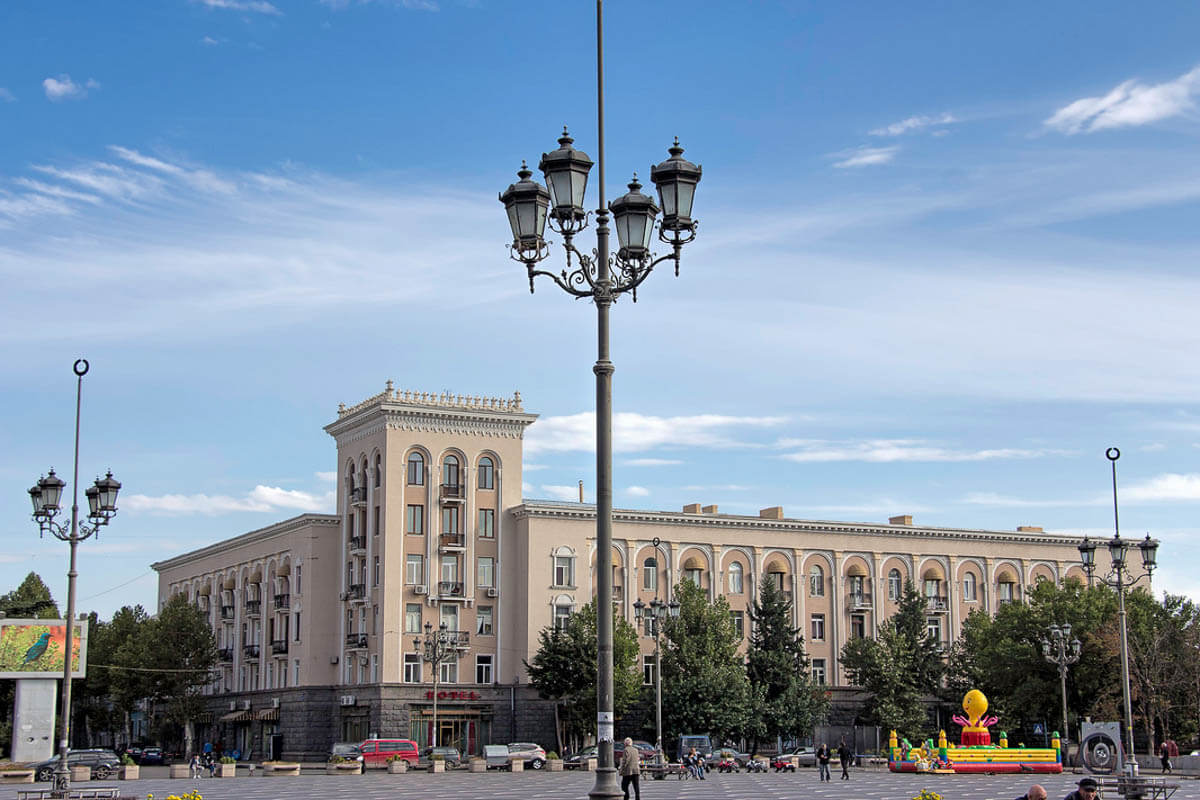 How to get to Rustavi from Tbilisi
There are loads of different marshrutkas going there, including a couple of Tbilisi city buses; just go to Station Square and ask for the one going to Rustavi.
The bus will most likely leave you in the new part of town, so you need to cross a very long bridge to get into the old part, where the German facades are.
Where to stay in Rustavi
Apartment – 1home – A one-bedroom apartment with a terrace that is situated in central Rustavi.

Check on Booking.com
Apartment – Uiut Komfort – Balcony with a garden view!

Check on Booking.com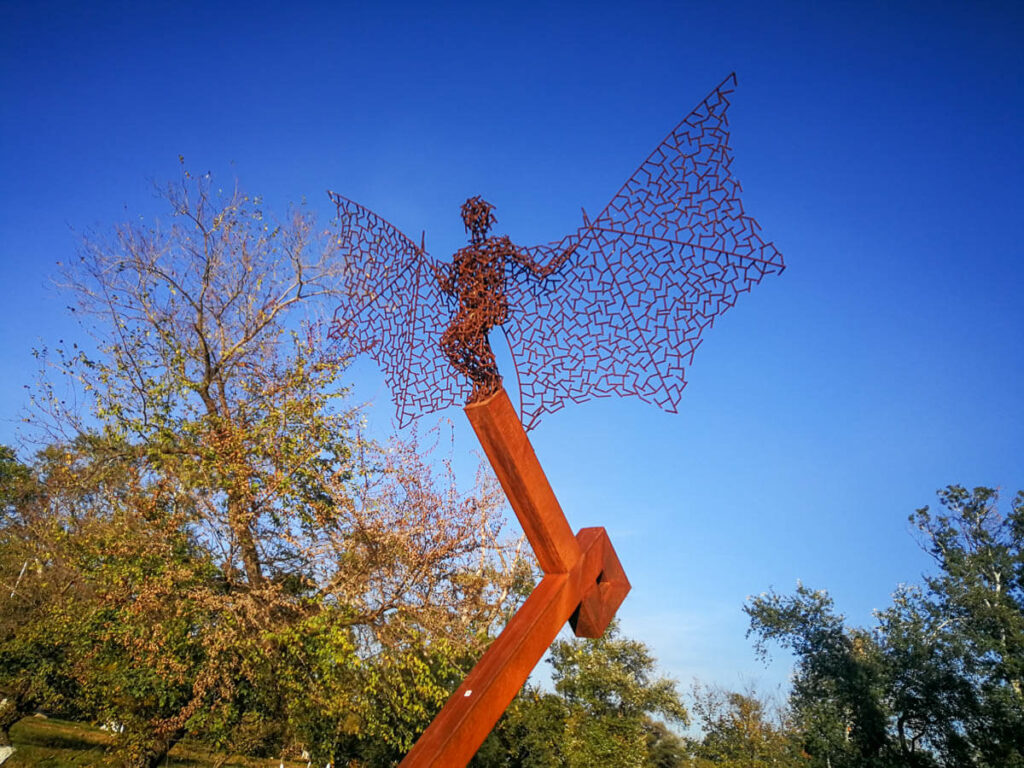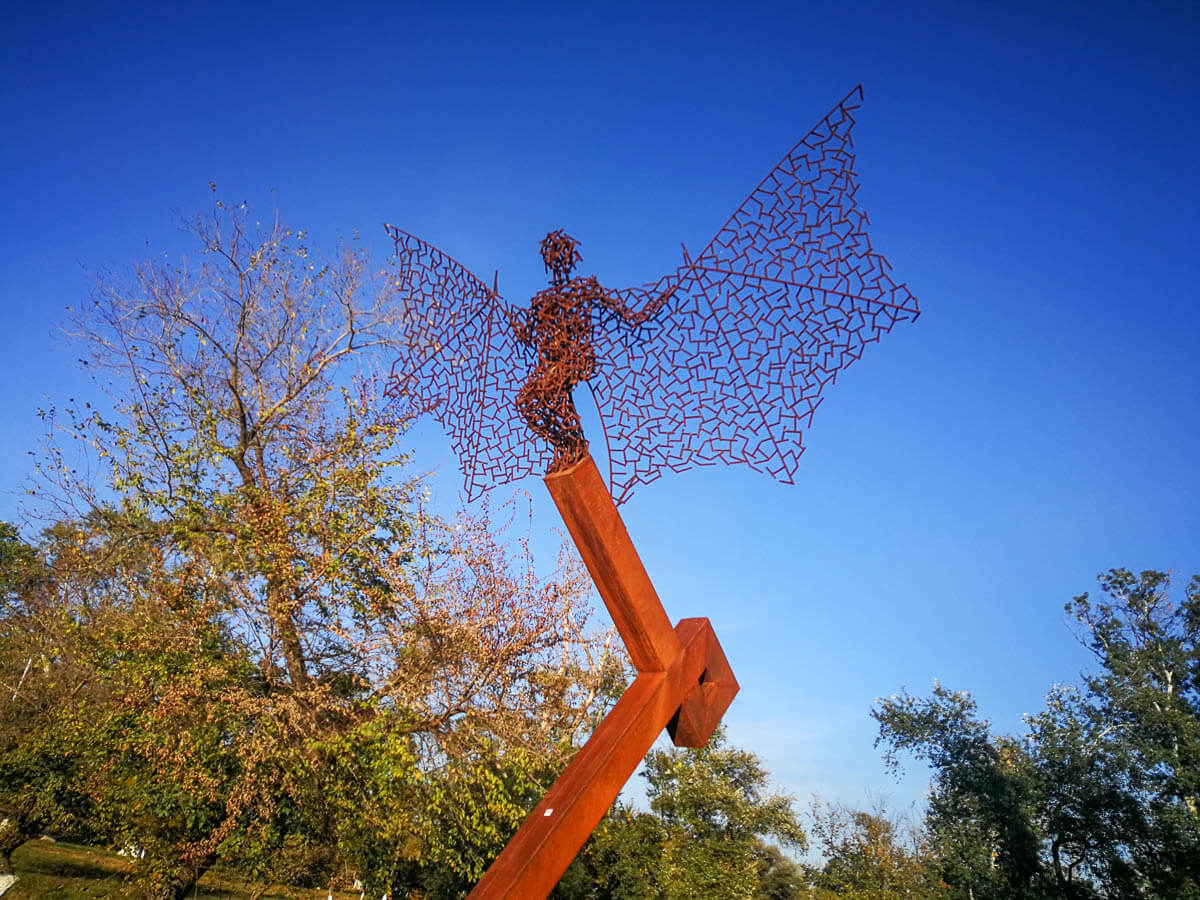 Day trip to Mtskheta from Tbilisi
Mtskheta is a small village 20km from Tbilisi, the favorite day trip from the capital.
It is said that Mtskheta has been inhabited for 5,000 years and, 2,000 years ago, this was the center of the Pagan cult of Armazi which was a local version of Zoroastrianism, the official religion during the pre-Islamic Persian Empire.
Then, it became an important center for Christianity and, today, the Georgian Orthodox Church has declared Mtskheta the Holy City.
A few of the churches are UNESCO World Heritage sites.
It is a very touristic city, but I think the short trip is really worth it.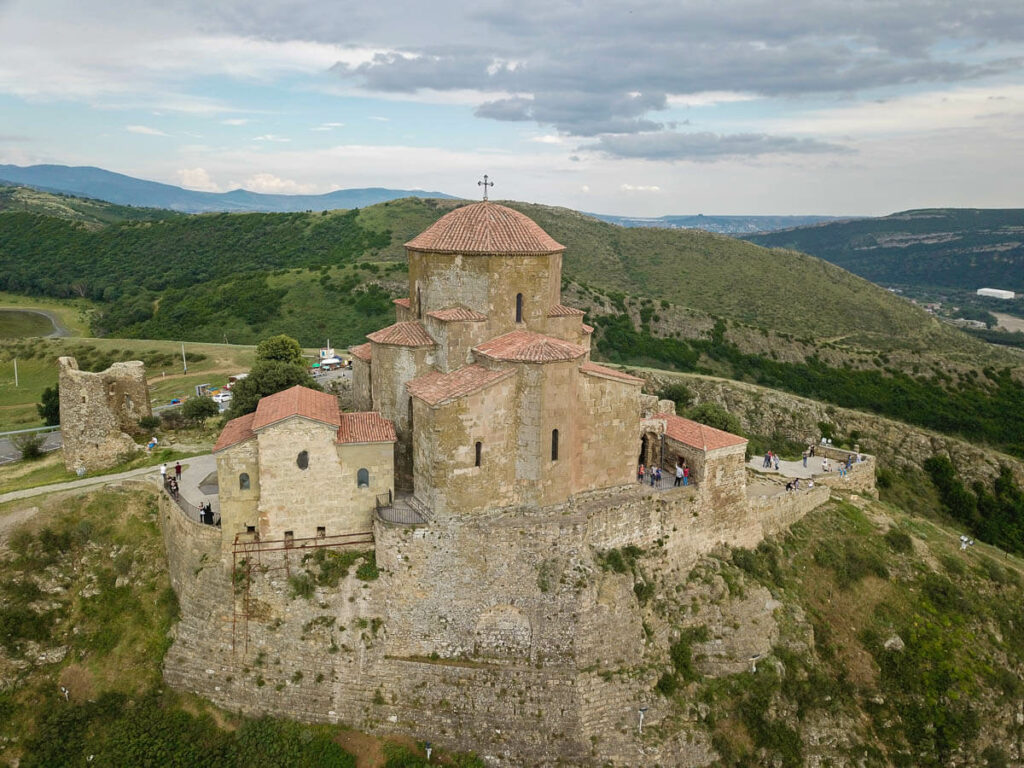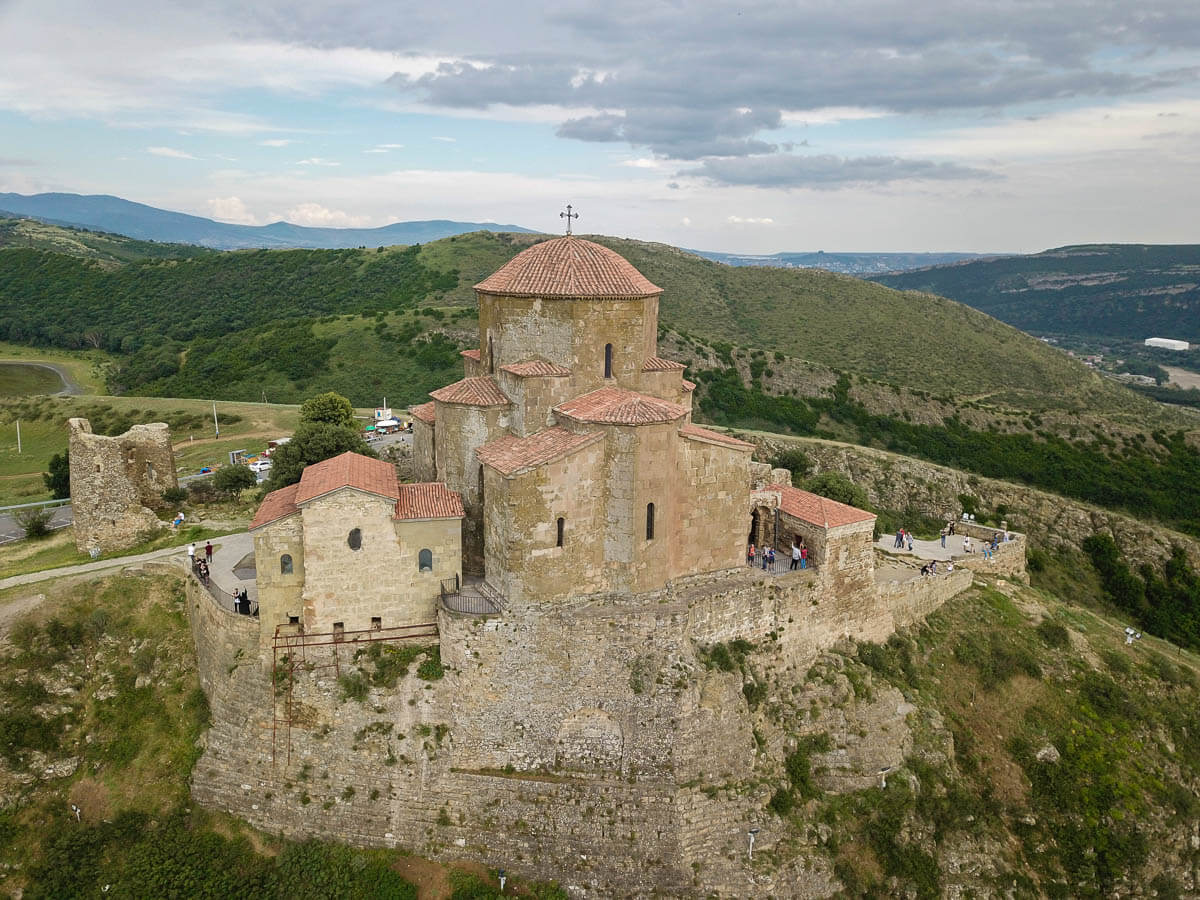 How to get Mtshketa from Tblisi.
Marshrutkas leave from Didube Station in Tbilisi.
They leave very frequently, all day long, and one ticket costs only 1GEL.
How to move around Mtshketa
The best way to visit all monasteries and churches is by hiring a taxi and, if you want to get the lowest price, you should book it at the tourist office, located next to Svetitskhoveli Cathedral. We booked a taxi for half-day, and I think we paid around 30GEL.
Where to Eat in Mtskheta
There are many restaurants in town but, if you want to go to a great place filled with locals, go to Salobie, located 2 or 3km outside of town, a traditional restaurant usually frequented by locals from Tbilisi (but also Russians) and which claim to serve the best lobio in Georgia, a dish that actually comes from this very same region.
I came here with my parents, and another friend who visited me in August and all of them loved it, so did I.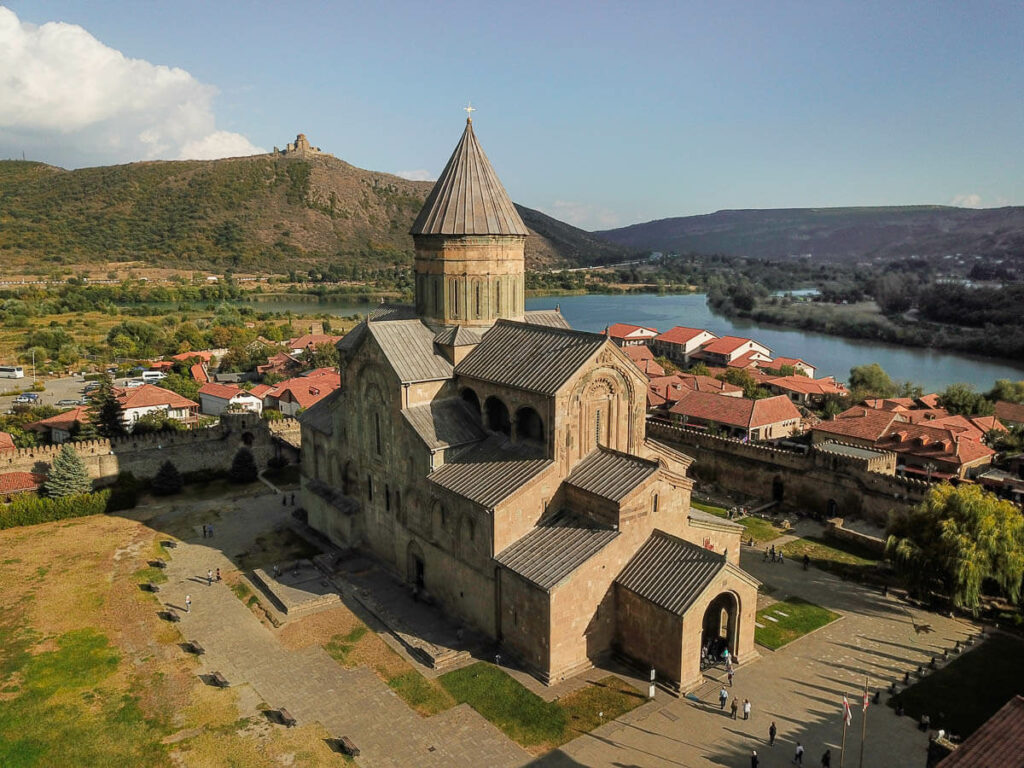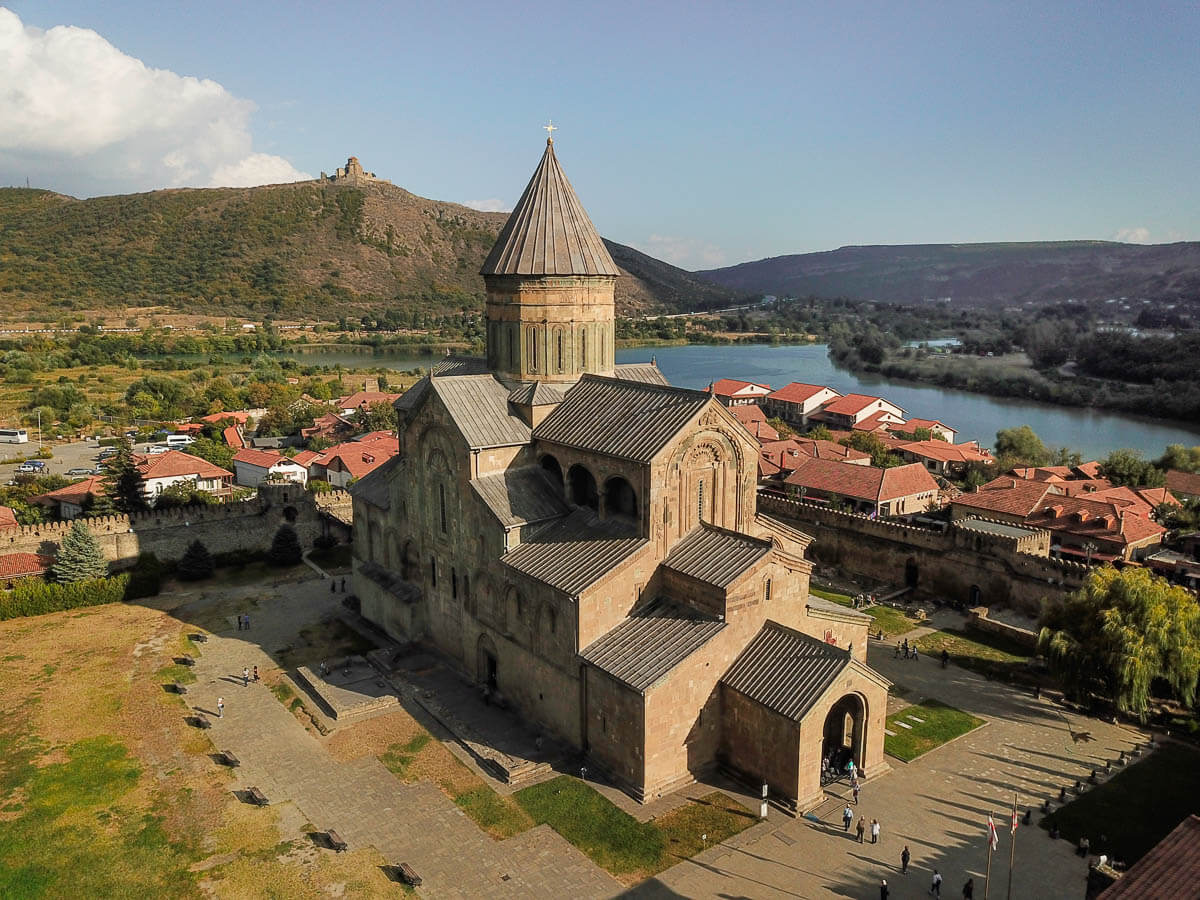 Things to do in Mtskheta
Mtskheta Town and Svetitskhoveli Cathedral – Mtskheta is a pleasant town to walk around for an hour. The center is dominated by an epic Orthodox Cathedral from the 11th century, a reason in itself to come to this town. It is claimed that the site where the church is built used be a palace where part of Christ's Crucifixion robe was brought right after his death.
Jvari Monastery – One of the most epic churches in Georgia, located on the top of a hill from where you overlook the whole of Mtskheta. Supposedly, it is built in the same spot where Nino (the person who brought Christianity in Georgia) made the sign of the cross while looking at the pagan shrines in Mtskheta.
Ghvtismshobeli Church – This church doesn't appear in the guidebooks and I never found any information about it on the internet, I believe because it is too small, but I liked it because it reminds me of the ancient monasteries you find in remote parts of Spain.
Shio-Mgvime Monastery – 12km away from actual Mtskheta, this is a real monastery where a large community of priests live, founded in the 6th century by an Assyrian monk named Shio. The churches are built over his grave.
Where to Stay in Mtskheta
Budget Guesthouse – Guest house Ebralidze – Exceptional location in the middle of the Mtskheta.

Check on Booking.com
Hotel – Golden Fleece – Hotel with exceptional view of mountains and river.

Check on Booking.com
Top-rated Hotel – Hotel 12 Tve – One of the best hotels in Mtskheta.

Check on Booking.com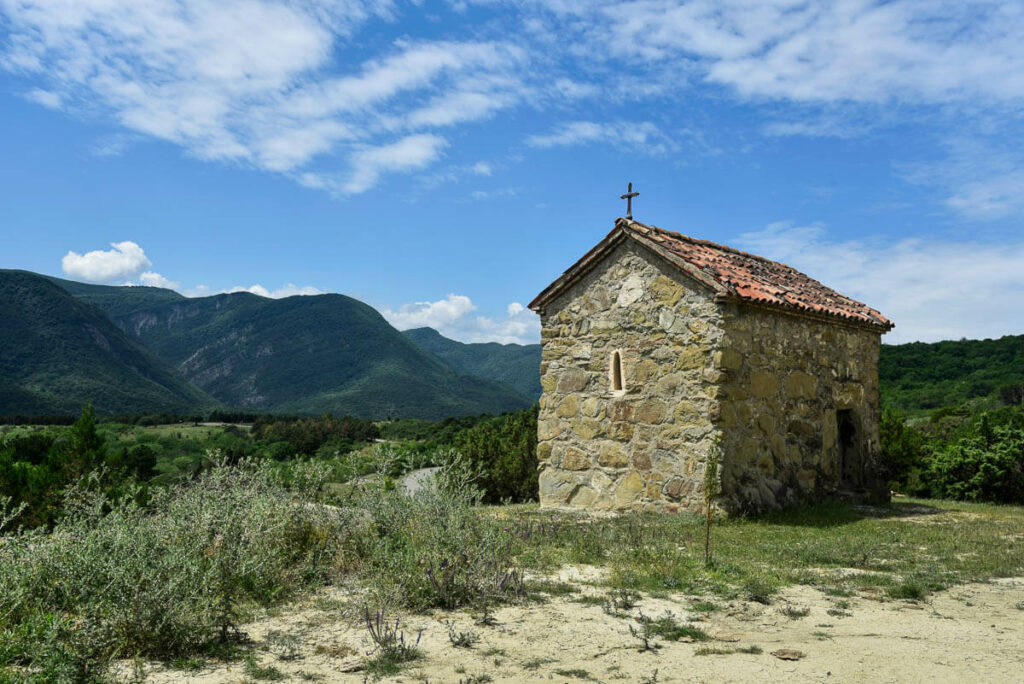 Day trip to Gori from Tbilisi
In case you didn't know, Stalin was Georgian.
Yes, he was born in Georgia in 1878, in an unattractive town named Gori, a small industrial city full of Soviet buildings with a very unattractive appearance.
In 1956, after Nikita Khrushchev made his speech, portraying the former leader as the cruelest of all tyrants, the thousands of Stalin statues spread all across the Soviet Union were suddenly taken down, the one in Gori being one of the few remaining – another I've seen was in Belarus.
The truth is that Stalin was the only reason Gori appeared on the maps and, despite Stalin's dark past and Russian-Georgian relations, Gorians have some love and hate feelings towards the dictator.
Anyways. If you are interested in Stalin's earlier history, want to check out an industrial city, and visit one of the three main cave cities in the country, Gori makes an excellent day trip from Tbilisi.
Interesting fact – In Georgia, there are two unrecognized republics: South Ossetia and Abkhazia. Not many people are aware that the actual border with South Ossetia is just next to Gori. You can actually see it (the army guards it) from the road itself when coming from Tbilisi and, just outside of Gori, there are many refugee camps for ethnic Georgians who were expelled from South Ossetia when it got its independence in 2008.
How to get to Gori from Tbilisi
Marshrutkas leave from Didube Station in Tbilisi.
They leave very often all day long, and one ticket costs 3 GEL. The journey takes a bit more than an hour.
Things to do in Gori
Stalin Museum – Despite the well-known crimes and atrocities of Stalin after Khrushchev's denunciation, this museum is more of a personality cult to Stalin, for the same reason I told you before, which is that Stalin is the only good thing that ever came out from Gori. You can also visit the small house, or shack, where he grew up. The museum opens daily, from 10am.
Goris-Tsikhe Castle – If you want to see the Soviet skyline of Gori, go up to this castle today guarded by the Georgian Army but completely accessible and free of charge. The castle dates from the 7th century, but it has been rebuilt and restored several times.
Where to Stay in Gori
Hostel – Tsera House – Great value for money and run by a friendly and hospitable family. It has a garden and a free parking too.

Check on Booking.com
Guesthouse – Hestia Boutique Hotel – An actual hotel boutique and probably the most charming hotel in Gori.

Check on Booking.com
Mid-range Hotel – Royal House – A nice and cozy hotel with a swimming pool that is close to the center.

Check on Booking.com
Top Rated – Georgia Gold – A 4-star hotel in the center of Gori. Very spacious room with a city view.

Check on Booking.com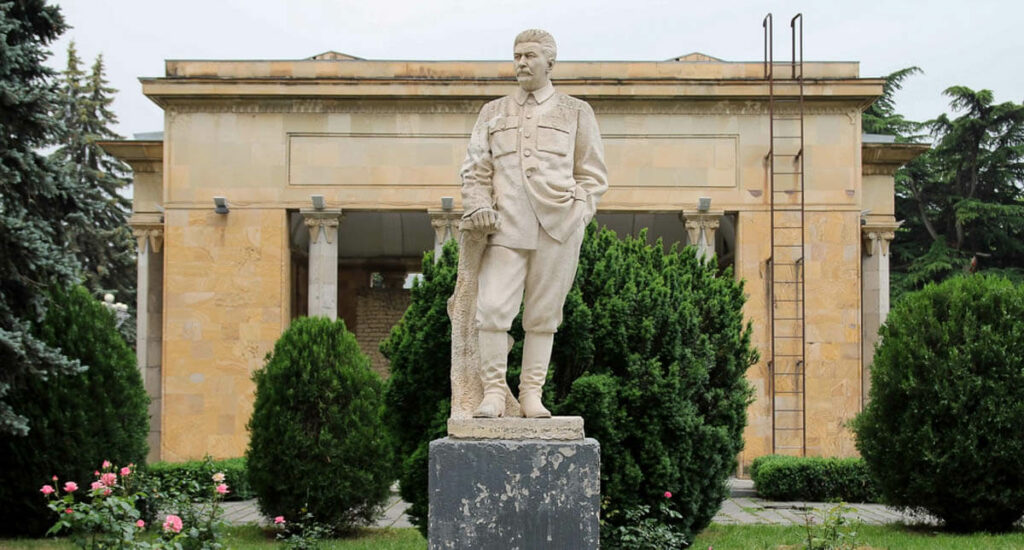 Day trip to Uplistikhe from Tbilisi
(you can combine it with Gori because it is 10 minutes away)
Uplistsikhe is an extremely underrated place in Georgia.
Located very close to Gori, Uplistsikhe is what is today called a cave city that used to be an important trade center during the Silk Road times. Most travelers don't like it because the cave and walls look too restored and fake, it is full of tourists and, basically, it can very boring.
Well, to some extent, I agree. However, Uplistsikhe is in an awesome location, on the left side of the Kura River, with stunning views of the valley and from where you get the best light for photography during sunset.
Since there is no public transportation to Gori after sunset, most tourists are gone before then, so we had the site pretty much by just ourselves and the best light.
We loved Uplistsikhe.
By the way, the entrance fee to the cave is 7 GEL.
How to get to Uplistsikhe
From the bus station of Gori, take a marshrutka to Kvakhvreli, located a 20-minute ride away and only cost 1GEL.
As we left after sunset, we couldn't find a taxi, so we hitchhiked back, which was surprisingly easy. Otherwise, a taxi shouldn't cost you more than 10GEL.
Where to Stay in Uplistsikhe
Guest House ELIA – Budget guesthouse with a shared bathroom and free private parking.

Míralo en Booking.com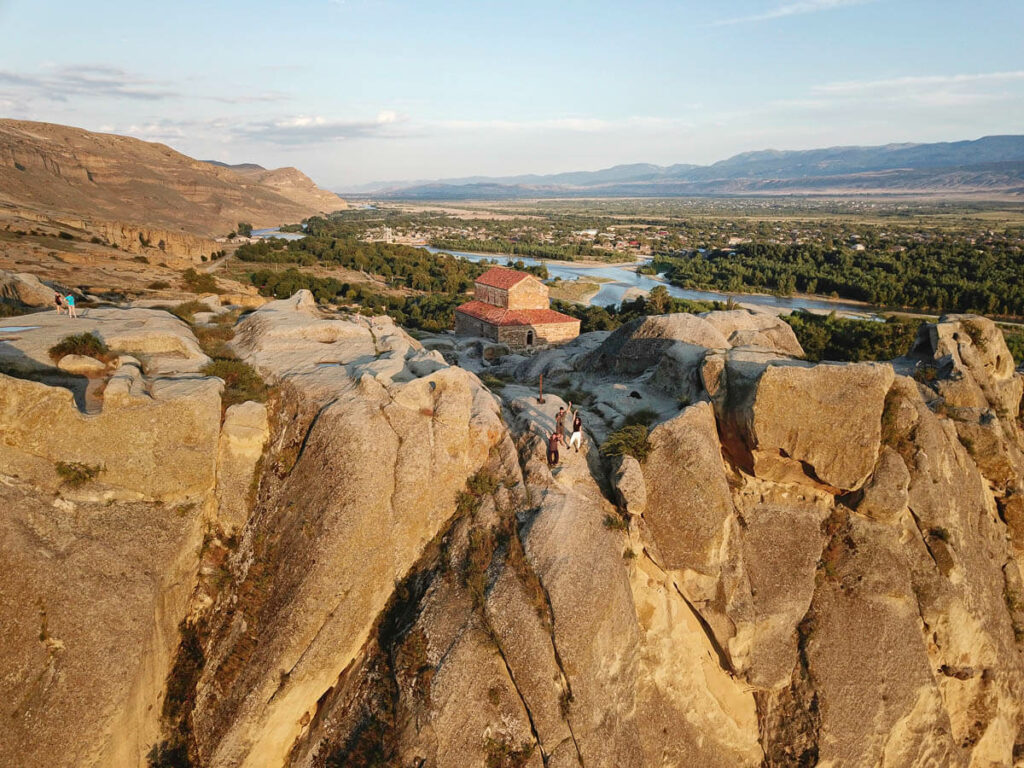 Day trip to Davit Gareja from Tbilisi
Davit Gareja is within Kakheti province, the wine region of Georgia, but it has nothing to do with the wine sites, plus it is kind of at the beginning of the region, far away from them.
Davit Gareja is a cave monastery built and founded by monks in the 6th century, where you can see loads of frescoes that portray the good relationship those monks had with the surrounding natural environment.
The area was greatly damaged because the Soviet Army used it as a military training area, testing all sorts of weapons, many times targeting the actual complex.
This arid plain, kind of lunar landscape, has many similarities to Afghanistan, and that is why they chose to train here during the Afghanistan invasion.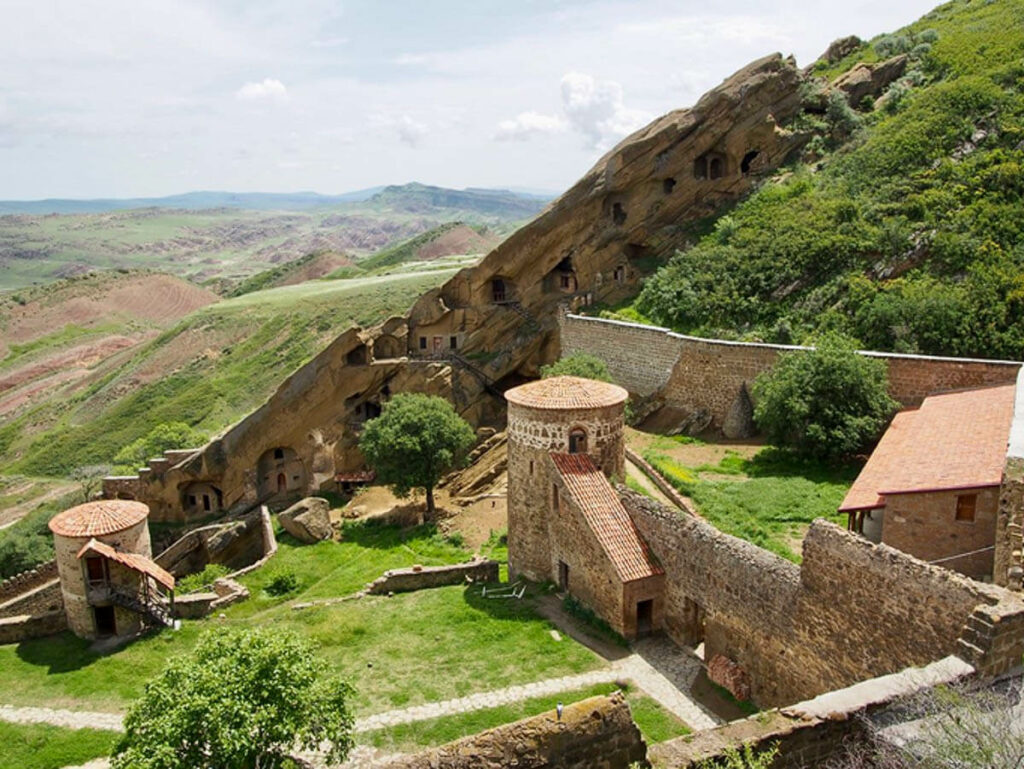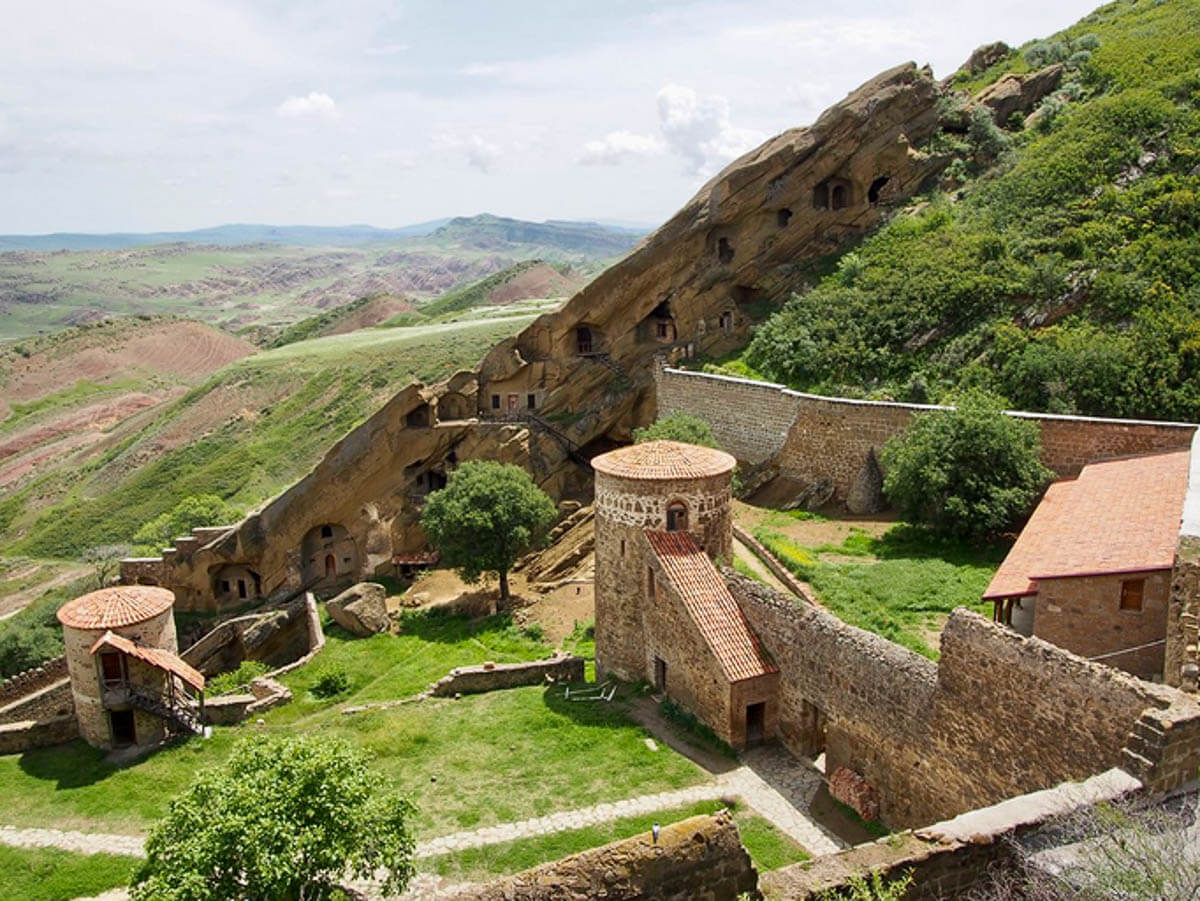 How to get to Davit Gareja from Tbilisi
There is no public transportation as such, as Davit Gareja is located in the middle of nowhere, but there are 2 ways of getting there:
Book a tour – Easy. You just book a day trip from Tbilisi to David Gareja, departing in the morning and coming back in the evening. Learn more here.
On your own – We did that, and it's perfectly doable, but the timing will highly depend on your luck. First, take a marshrutka to Sagarejo (from Ortachala bus station). Once there, you can either take a taxi or try to hitchhike to Davit Gareja. Alternatively, there is a tiny village in between named Udabno, 14km before Davit Gareja, and you could also go there by marshrutka from Sagarejo, and then try to hitchhike or take a taxi.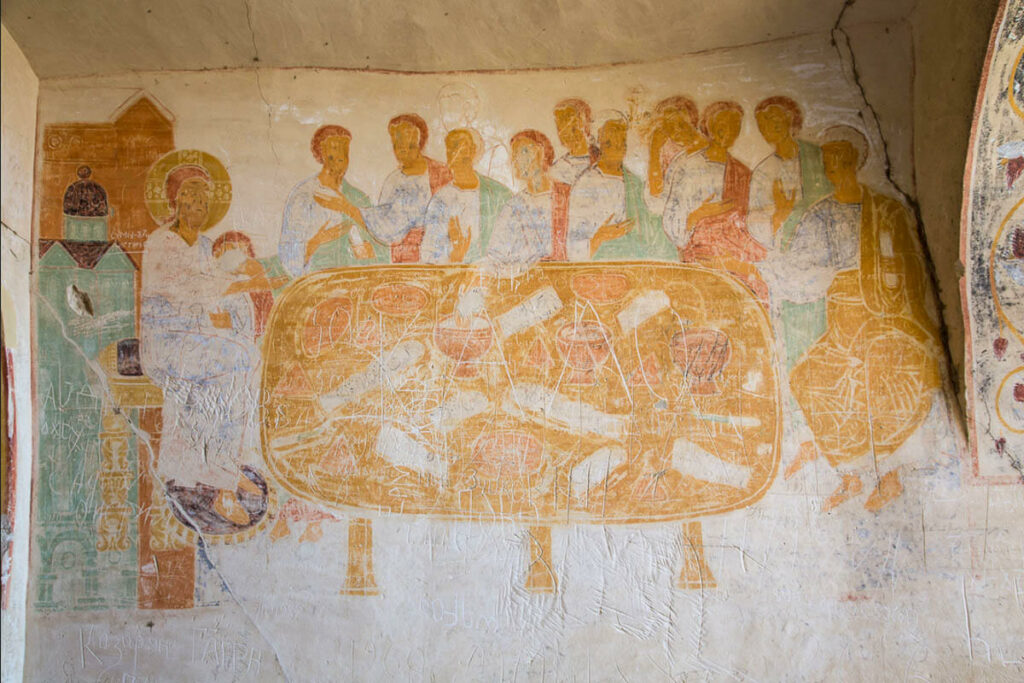 Day trip to Sighnaghi from Tbilisi
I have a love and hate relationship with Sighnaghi.
Sighnaghi is the most visited town in the area of Kakheti, the wine region of Georgia.
It's an area where I spent several days and, while Sighnaghi it's the prettiest place, a postcard-like town, in my humble opinion, it was the least interesting part, since today has become very touristic, lacking all the authentic charm other areas of Kakheti have.
Check my Kakheti travel guide to understand why.
Still, I do recognize that the town is pretty, and it makes for an excellent day excursion from Tbilisi.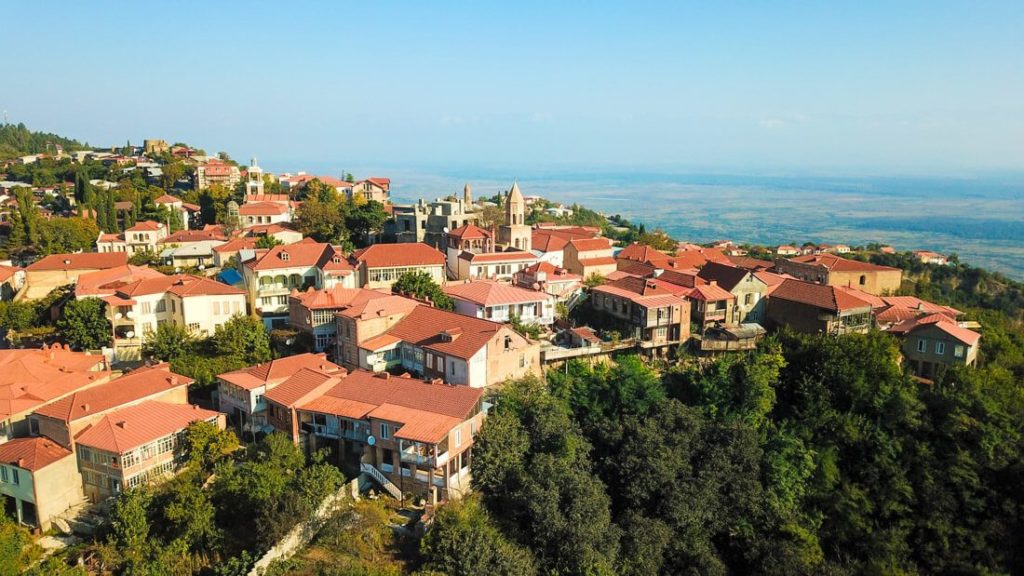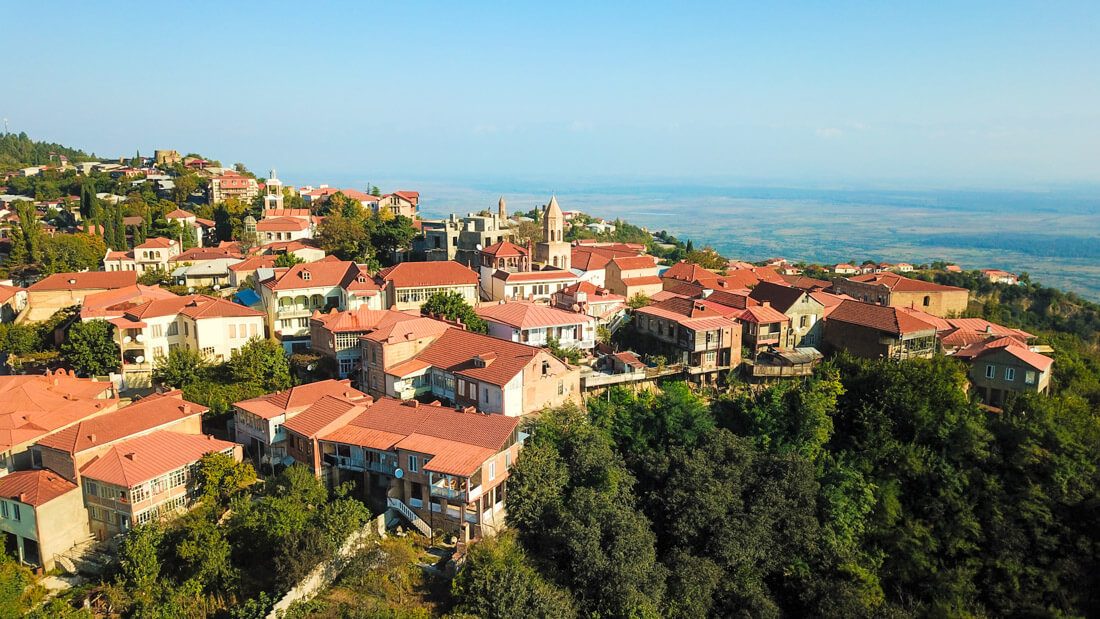 Things to do in Kakheti
Check out the different viewpoints – Especially the one located here. From where you can see a panoramic view of the town, the valley, and Dagestan.
Bobde Monastery – This beautiful monastery is where St. Nino is buried, the woman that converted Georgia to Christianity. It is also a pretty cool viewpoint of the city.
Explore the town, souvenir shops, city walls, etc. – If you don't have much to do, I recommend you go around to check the town.
Where to stay in Sighnaghi
Hostel – Sofya – Excellent location and the best staff accommodating host. Good backpacking vibes

Check on Booking.com
Guesthouse – Pirosmani 60 – Budget, clean accommodation in Sighnaghi.

Check on Booking.com
Top-rated Hotel – Lost Ridge Inn, Brewery & Ranch – Amazing hotel with wonderful food and drinks.

Check on Booking.com
How to get to Sighnaghi from Tbilisi
Marshrutkas depart all day long from Orchatala bus station
More information for Georgia
Get travel insurance for trekking in Georgia
I strongly recommend IATI Insurance as it provides coverage for a very big bunch of adventure activities.
Get an exclusive 5% discount if purchasing via this link
Don't forget to check our travel guide to Georgia.
As well as all our Georgia articles: