I've visited Quebec City many times, but this was my first Canada New England fall cruise.  When Celebrity Constellation departed from Bayonne, New Jersey, there was only a hint of autumn in the air. Perfect fall weather.
I never expected to experience an actual major winter weather event on this cruise. Living in Florida for almost 22 years, I'd forgotten how fickle autumn winds can be, especially towards the end of October.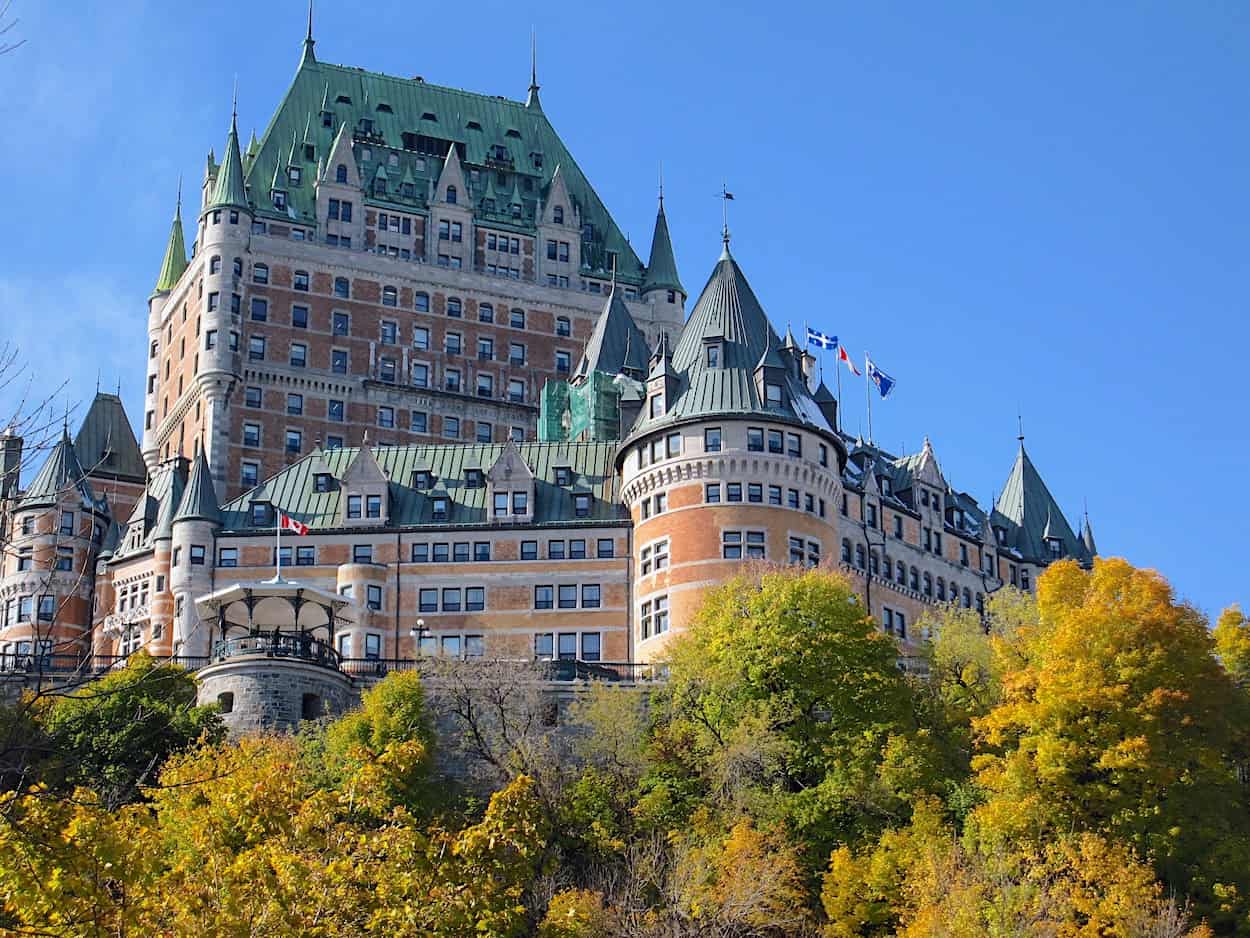 Quebec City on a Canada New England Fall Cruise
Our first stop on this 14-day autumn cruise, round-trip to Quebec City, was Portland, Maine.
It was a gorgeous day in Portland; warm breeze and a cloudless azure sky.  Little to no wind and temperatures hovered near 70 degrees.  Everyone was off to explore the town or on a shore excursion.  I doubt anyone lingered onboard that day.
RELATED:  Fun Things to Do in Popular Canada Cruise Ports
What to Do in Portland, Maine
Whenever possible, I forego a shore excursion.  I'd rather wander a new place on my own.  Portland is one of those places.
I love to visit Portland especially when the ship docks at the pier in the old downtown. In my usual food-forward fashion, I was in search of an authentic Maine lunch.  At the advice of a shopkeeper, Gilbert's was the place.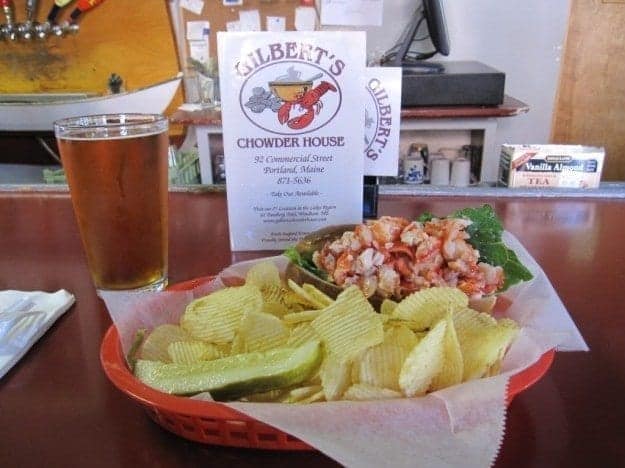 While munching on freshly caught lobster, preceded by a steaming bowl of rich seafood chowder, I overheard a lively conversation by some locals.  What they said instantly piqued my interest.  
According to the New England weather forecast prediction, an unusual early winter storm was barreling out of northern Canada.  Snow in the form or a blizzard was anticipated.
Time to Go Shopping in Portland
Packed with only a light jacket and no hat or gloves, I decided I'd better hightail it around town to find something warm and waterproof.  
Our ship, by my calculations, would head directly into a surprise first snowstorm of the season. 
I was fortunate to find a lovely consignment shop where I purchased a full-length London Fog felt-lined winter coat.  Hat and gloves came from a local knit shop.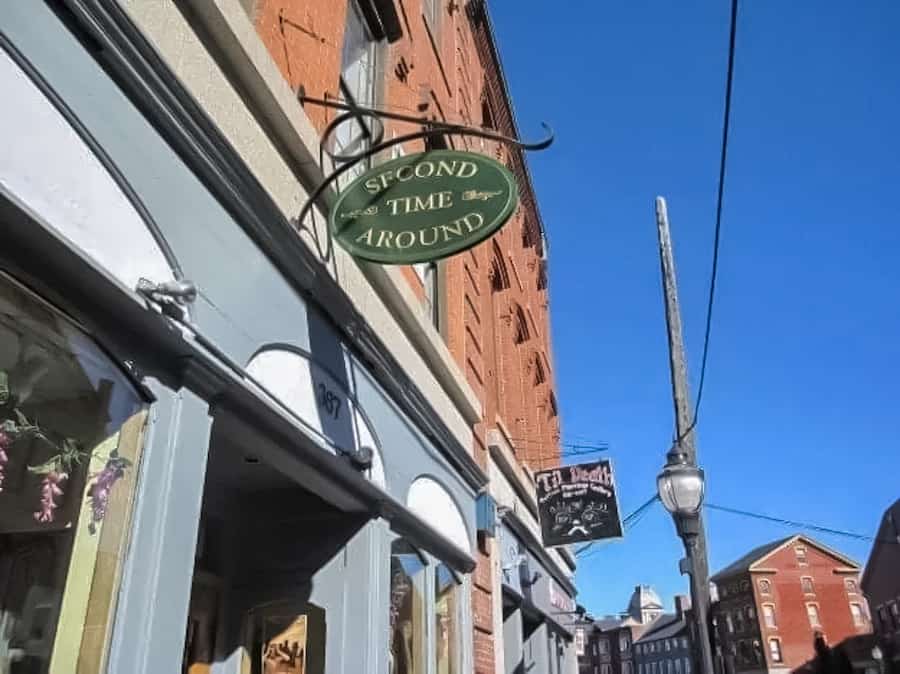 Shopping bags in hand, I headed back to the ship.  The sun was just starting to dip behind the downtown buildings as it cast a warm glow on the old brick façades.
Surprisingly, two days at sea cruising the vast Gulf of St. Lawrence brought us more of the same sunshine and warmth as we had in Portland.  Maybe the weather would hold out until we reached Quebec City.
RELATED:  Cruise Port Guide – Best Things to Do in Halifax, Nova Scotia
Autumn Canada Cruise Cruise and a Change in the Weather
My thrift shop find of that gently-used London Fog overcoat would soon become a necessity.  As we made our way from the Gulf into the St. Lawrence River, the weather suddenly began to change.  The wind started to howl, its speed picked up and temperatures dropped.
By morning, it had started to snow.  Horizontal snow and sleet pelted the ship as Celebrity Constellation slowly cruised westward on the St. Lawrence River.  
I Had to Go Outside and See for Myself
There was a crew member sporting a huge smile, as he shoveled snow on the pool deck.  He was from Jamaica and it was the first time he experienced snow. 
The late fall wintry weather persisted all day.  As we cruised the wide St. Lawrence, winds came barreling towards the ship's bow. 
If you went outside, you'd need to hold onto the railing to keep from slipping.  It was like walking on an ice rink in shoes against the wind. 
Exploring Quebec City in a Blizzard
We arrived bright and early into Quebec City just as dawn's ominous dark gray skies opened up.  Blizzard warnings were issued.  
In this hilly city, originally built on two levels, ice plus freezing rain and strong winds can spell serious trouble.
Undaunted, I decided to go ashore after breakfast.  I hadn't seen snow or sleet or felt temperatures this cold since I left Chicago in 1999.
Quebec City on a Autumn Cruise
It was time to go ashore and explore Quebec City, only this time it would be a lot colder than expected.  
In 35mph winds, traversing the icy gangway to go ashore became a challenge.  Living in Florida but missing my Chicago roots, this was an opportunity I did not want to miss.
My new winter coat, knit hat and gloves from Portland would be put to the test.
Dressed in layers I looked somewhat like the Michelin (wo)man.  Carefully placing both hands on the cold metal railing, I walked sideways down the ice-covered gangway. The crew couldn't keep up with keeping the gangway clear.
Braving the Weather for a Map! 
From there, laptop in my backpack, I proceeded to follow crew members to the terminal for a city map and things to do.  I was one of only a dozen passengers who ventured off the ship that morning.
I walked through the blinding sleet and snow for what seemed like forever, but was actually only fifteen minutes. 
From the cruise terminal I looked up to realize that a Princess ship had taken the prime docking location directly in front of the terminal.  Now the long walk made sense.
That's why Constellation docked so far away and we had to walk four blocks in the wintry weather to get to the terminal.
Quebec City Was Cold But Still Fun
After an hour's struggle to use the wifi at the terminal, I gave up. 
I returned to the ship, offloaded my backpack, electronic gear and laptop and made my way back out into the weather. 
This was truly the closest to Chicago weather that I remembered.
A Wintry Walk to Old Quebec 
Quebec City is a beautiful city best explored on foot…in the warmer months.  But when you arrive by cruise, the dock is almost at Old Quebec. 
Quebec City itself is a sprawling metropolis that most cruise passengers never see. Why? Because there are a lot of really good shore excursions outside the city.
From the port, it's only a 10-15 minute walk to reach Old Quebec and the historic part of the city.  On a cruise to Quebec City in autumn however, especially with this weather, the walk seem a little risky.
What most visitors don't realize is there are two levels to Old Quebec, Lower and Upper.
Looking up from the street at the historic Chateau Frontenac Hotel, my only choice to get to the upper level and visit  the hotel was to take the 130 year old funicular.  Or try to walk. 
Neither seemed appealing in the now blizzard conditions, so walking just the lower level would be the plan.  We had another full day here tomorrow and maybe the weather would improve. 
Insider Tip:  If you're on a cruise to Quebec City, try to find one that has at least one overnight.
Finding the Best Lunch in Quebec City
An hour of traipsing around in autumn's cold and damp, I longed for a nice hot lunch in a cozy French café.
Deciding between restaurants, I chose Le Cochon Dingue (Crazy Pig). The other, Le Lapin Sauté, would be next time. 
Seated at a table for two at the blue-framed window with a view of the snowy street, I felt as though I was in a movie scene. 
I looked to see what the woman at the next table was having for lunch.  All I could say to the waitress was, "I'll have what she's having," à la "When Harry Met Sally" but without the sound effects.
It was called a Seafood Pot Pie, but it was so much more.  Large pieces of lobster, scallops, salmon and potatoes in a fabulous cream sauce were topped with an oh-so-flaky puff pastry. 
Not too salty, with a slight taste of tarragon and pepper.  A dark leafy salad with homemade vinaigrette and French fries complimented the already ample pot pie. 
I asked the waitress to choose a Sauvignon Blanc for me and all was complete.
Exploring Old Town Quebec
Tourists and locals walked gingerly along the slightly ice-covered cobblestone streets careful not to slip or step in a gray slush-puddle.  Apparently, Quebec City and Old Quebec do not shovel the streets or sidewalks until November 1.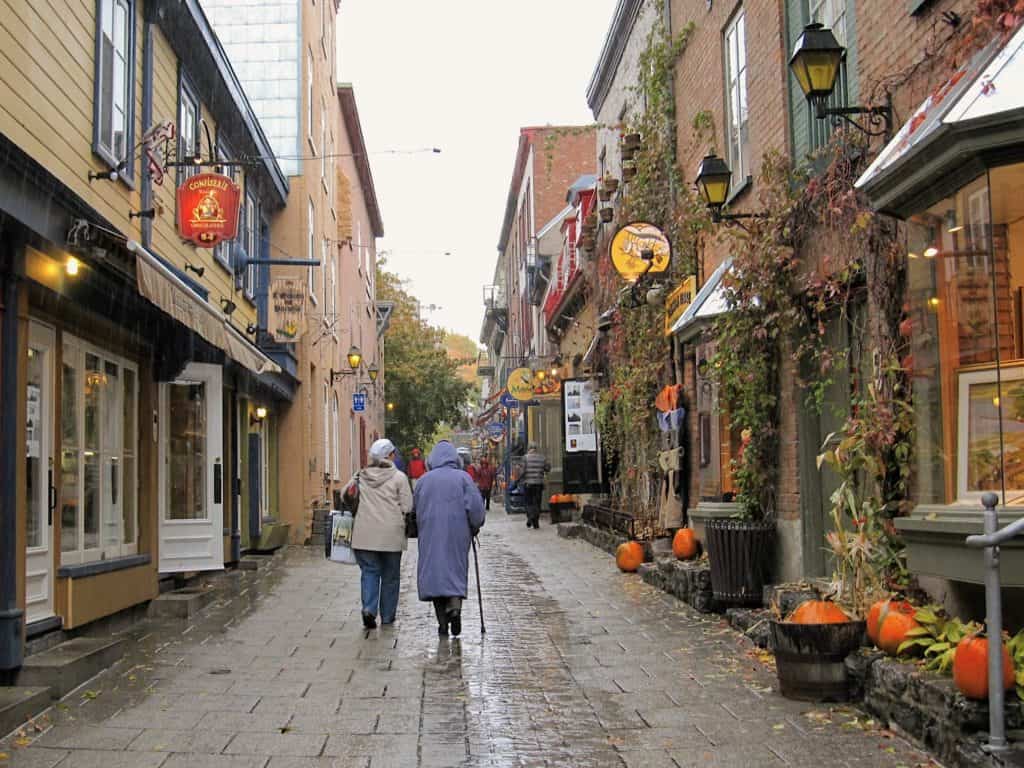 This being only October 22, shopkeepers were out to scrape away the early season snow and ice with brooms and shovels. 
Halloween pumpkins, dressed in their French-style finery, dotted the doorways of the stores, each looking more très chic than the ones before them.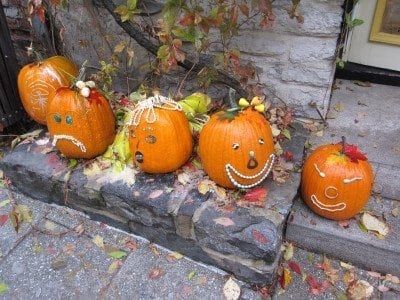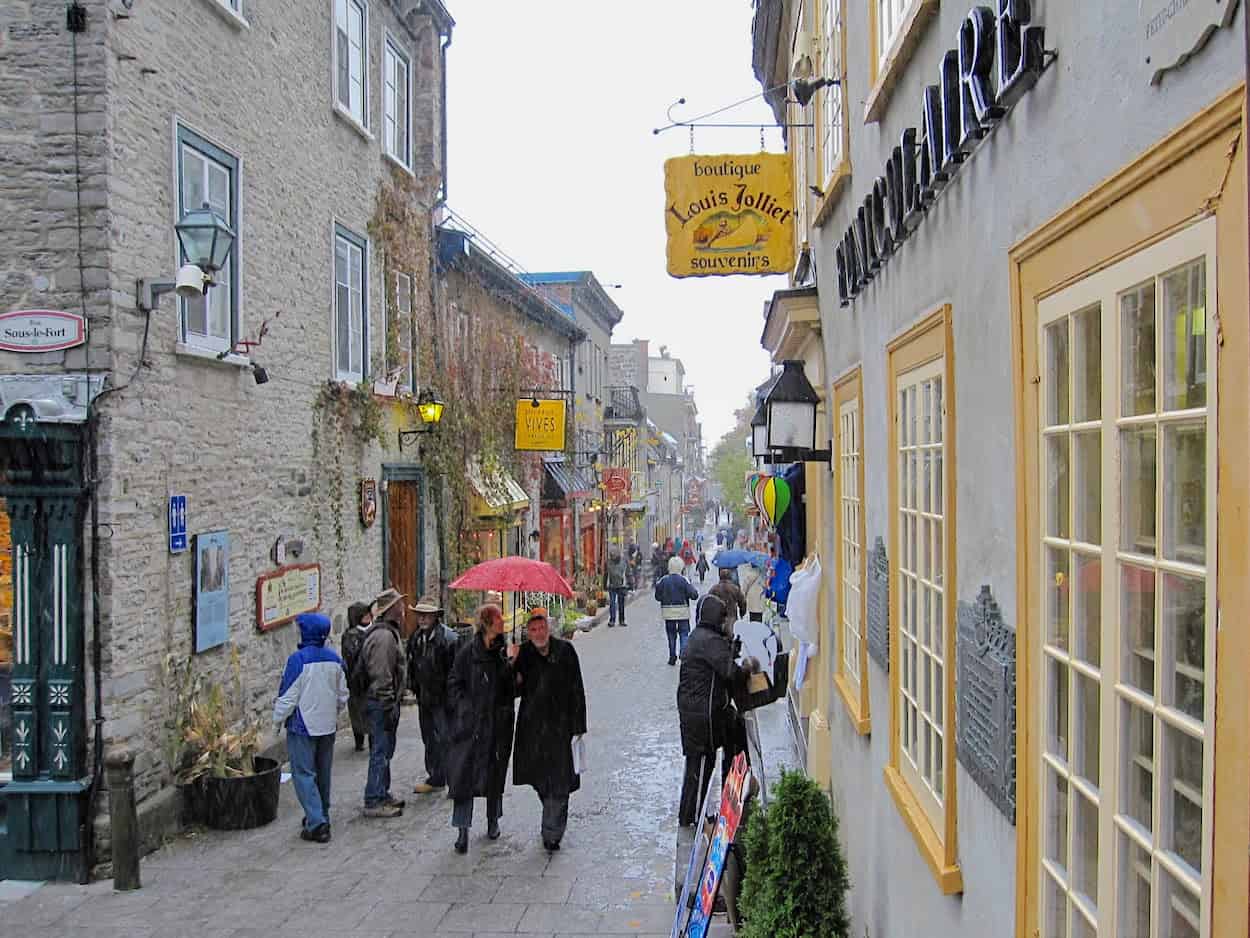 My First Quebec Shore Excursion 
Back on the ship after lunch, everyone looked cold, wet and miserable.  Most of the tours still went out despite the inclement weather. 
After much deliberation, I finally decided I would sign up for a late afternoon shore tour to Montmorency Falls and St. Anne's Winery. 
How anyone could be grumpy with this unexpected autumn weather anomaly was beyond my comprehension.  Especially when complimentary hot chocolate greeted everyone as they boarded the ship.  
Warmed and ready, I headed back outside for the tour. 
Panic! I Couldn't Find My Tour Group
Meet at the pier at three o'clock were the instructions on the tour ticket.  I arrived five minutes early and waited until ten minutes past…no one in sight. 
Not knowing if my tour had been canceled, I re-boarded the ship to inquire.  The tour was not canceled, but no one, passengers and staff, were certain where to locate the meeting point. 
By now I had missed the bus (not the boat, thankfully).  Surprisingly, when I asked the person at the shore excursion desk for a refund, she graciously credited my onboard account.
The meeting point had been changed and some people missed the memo.
Due to the inclement weather and probably not wanting people to get sick or slip and fall, the Front Desk staff didn't argued if you wanted to refund a tour at the last minute.
Quebec City Overnight
Dinner onboard was delightful.  Of course the food was very good but the view of Le Château Frontenac with lights aglow and snow still falling was mesmerizing. 
There was entertainment planned for the evening, but very low-key.  Many passengers had opted for dinner ashore.
Some, who'd done this before, were staying overnight at the historic hotel. 
I love spending a night in port; the ship isn't moving, all is quiet and no rushing the next morning to head ashore.
And Quebec City the Next Day…
By mid-morning, all the ice and snow had melted.  It would be a beautiful day to ride the funicular up to the hotel and explore the Upper Level.  And that's exactly what I did.
Is This a River Cruise or Ocean Cruise?
Technically, a Canada New England cruise can be more of a river cruise than an ocean cruise. 
On a Canada New England cruise between New York or Boston and Quebec City or Montreal, you'll spend more time on the St. Lawrence River than the Atlantic Ocean. 
Small vessels can even navigate into the St. Lawrence Seaway, the Great Lakes and cruise Lake Michigan south to Chicago.  The new Viking Octantis is one of those ships. 
Best Time for a Canada New England Cruise 
On any Quebec City-bound autumn Canada New England cruise, be aware that the weather is totally unpredictable.  
What you can hope for on an early autumn cruise are magnificent fall foliage displays in dozens of reds, golds and orange hues.  Flocks of southbound migrating birds are also a common sight. 
Cruise a week or two later to or from Quebec or Montreal, and maybe you'll be lucky like me and catch an early season blizzard.  Who could ask for anything more?
If you haven't made plans for a Canada New England cruise to Quebec City or even just Halifax, Nova Scotia, you should seriously consider adding it on your cruise to-do list.    
Want More Travel Inspiration and Ideas? 
Sherry Laskin
I'm the editor and creator of CruiseMaven.com, a solo traveler cruising the world on waves and wheels, collecting recipes along the way.  I hope my articles and photos entertain, advise and inspire you to travel the world without flying.  Take a breath…stop for a local meal and a glass of wine along the way.