After two disrupted ski seasons, and a millennial low in 2021/22, there is hope that the new ski season sees skiers and snowboarders returning to the slopes with confidence. Many innovative skiing accessories have come on the market since the beginning of the pandemic, so there is no shortage of new and cool ski gear for the 2022/2023 ski season. If you have booked one of our single parent ski holidays or solo ski holidays and are wondering which skiing gadgets might improve your enjoyment of the sport, check out our list of the best high tech ski gear:
1. Helmet cameras
No matter your age or level, a ski helmet mounted action camera is a cool gadget to have! It's real fun recording your daily adventures and even more so watching them at the end of the day or after your ski trip. Not only can you preserve some fantastic holiday memories, but you also have something to show friends and family. Get a tough, waterproof design with video stabilization for smooth recording. Possibly the best action camera on the market right now is the GoPro's Hero 11.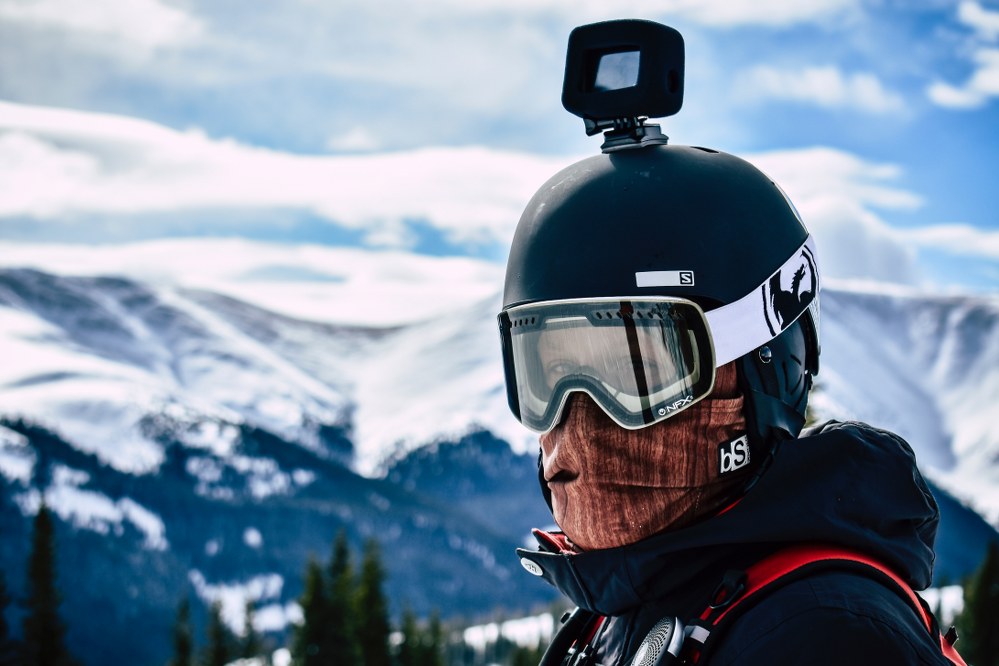 2. Sophisticated ski socks
Ski socks with targeted cushioning in the right areas have been around for a while – we remember buying our first pairs as early as the late noughties. Once you've had a pair, you will never go back to standard ski socks. But ski socks have seen further improvements since then. You can now get fully or partly cushioned models, made of quick drying, breathable fabrics that will keep your fee warm, comfortable, and ventilated all day. Examples of high tech ski socks are the Sk4 M Kh Skiing Socks, which Falke claim have anti-blister properties thanks to triple-layer structure that keeps your feet dry. You can even get heated ski socks. No need for expensive, moulded ski boot liners when your ski socks do the job!
3. Foldable skis
Whether you drive or fly drive to your ski resort, carrying those planks and fitting them into the boot of your car can be a real challenge – especially if you have to transport other passengers with their own luggage as well. It might still sound ridiculous to some, but Elan has produced the world's first foldable skis, the perfect solution to this problem. The Elan Voyager skis fold down to one metre and are easily stored and carried around, making your life a lot easier. There is no compromise here – these are high-performance, exceptionally strong, all mountain skis. If that sounds a bit too much out there for you, check out our blog post on the best skis on the market.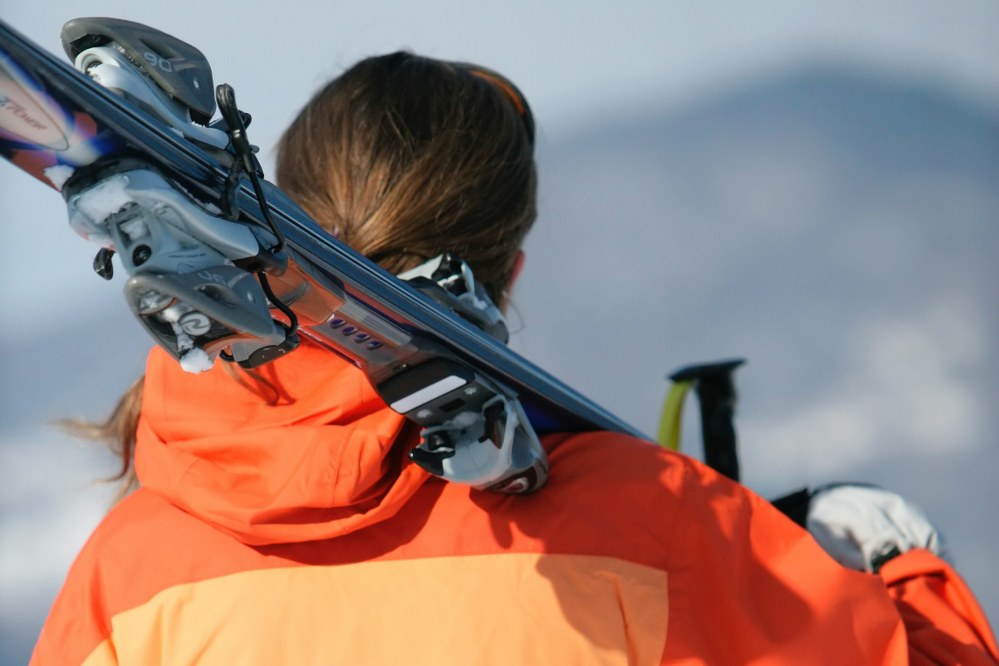 4. Hand warmers
Hand warmers are a simple, yet effective piece of gear. You can get instant hand warmers from brands like Heatmax that activate as you unpack them. They are small and lightweight, so you can always keep a pack in your jacket pocket in case you need them. We found them a godsend when skiing in sub-zero temperatures. Use them to warm your hands in the lift or stick them in your gloves whilst skiing. They will keep your hands and fingers warm for hours without making you sweat. If you are not keen on single use products, you could buy a battery-operated reusable hand warmer. They sometimes double as power banks and can be used in the cable car between runs but not on the slopes since they don't fit inside your glove.
5. Smart ski helmets
We all know the importance of wearing a helmet on the slopes, but how do you choose the right helmet? Aside from the correct fit to reduce your risk of skiing-related head injuries, you want your ski helmet to be comfortable, look good, and be functional. After all, you will wear it every single day of your ski holiday.
Many skiers, especially women and children, prefer a lightweight helmet, in which case, you should go for an in-mould design. This also makes for a much sleeker look. If you are skiing in warmer temperatures, you might also choose a ski helmet with quick drying inner material and an outer shell with increased ventilation. Salomon, for example, offers helmets with active ventilation that allow you to modify the airflow and heat exhaust. And if you need to be able to take calls whilst skiing, an inbuilt Bluetooth and speaker is super convenient. It means you will not have to stop on the slopes, take your gloves off and fumble around for your phone to see who has called or messaged you! With the Obex Spin Communication helmet from POC, for example, you can connect your phone via Bluetooth or the remote-control cord, which is included.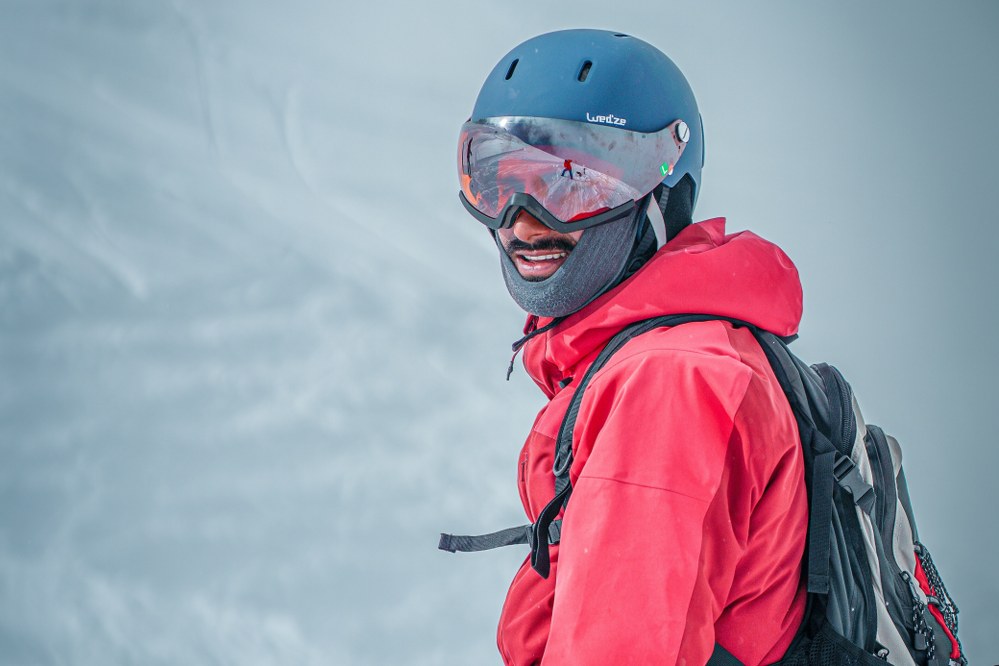 6. Adaptable ski goggles
Goggles are an essential piece of any skier's kit for a variety of reasons. They protect your eyes from injury, snow, wind, and excessive UV exposure, which can lead to a sunburnt cornea, so-called snow blindness. In essence, they do a lot more than your average sunglasses! Photochromic lenses can detect UV light and automatically change tint. This means you don't have to change lens or swap your goggles for sunglasses. Equally important, goggles improve your vision in difficult conditions. Severe weather, such as snowfall, fog, or bright sunshine can make it difficult to see the mountain clearly, which can lead to injury if you inadvertently ski across ice, dips, or bumps. Good quality ski goggles will enhance your vision through colour recognition allowing you to see details in different conditions that would otherwise not be visible to the naked eye.
The range of ski goggles available on the market in 2022/23 is staggering. You can add a scratch free coating, buy prescription goggles, over-glasses-goggles, and even "smart" goggles that will show you the map of your ski resort, check your speed, and record footage of your ski adventure with an inbuilt camera. Many of our skiers on our single ski holidays struggle with their glasses fogging up on the slopes or in the cable car, so these over-glasses-goggles are definitely some we will be testing.
7. High tech ski clothes
Gone are the days when we had to bundle up in winter clothes! Thanks to the advances in ski clothing technology, skiers need no longer wear countless layers to stay warm and dry. The development of breathable, moisture wicking, and insulating materials mean we can make do with 2 or 3 layers on the slopes giving us the much-needed mobility to ski or snowboard. It is yet again quality over quantity.
But to top it all, some manufacturers went one step further and developed heated ski clothes. 2022 has seen rechargeable heated gloves and socks for both skiers and snowboarders, infrared heated base layers, battery heated ski jackets, and heated remote controlled ski boots. Thermic appears to be the leading manufacturer although you will find heated ski gear from other brands, too. It is important to note that these nifty products need to be charged and that the battery life may vary.
8. Helmet-friendly ear buds
If you don't have the budget for a Bluetooth enabled ski helmet, or you don't want to replace your old model quite yet, then a pair ski helmet friendly earbuds will work equally well. You can find several compact, lightweight earbuds on the market right now that work well under helmets, such as the Samsung Galaxy Buds 2 Pro, the AIrPods Pro or Sony's LinkBuds S. Naturally, some of these don't come cheap, but they are pretty versatile, so you can equally use them in the gym, on the train, at home, etc.
Providing your helmet has a slot within the earpad area that fits a small round speaker, you could go for proper ski helmet headphones. The price depends on the features and functions you are looking for. Bluetooth headphones with a push to talk function, such as the ones from ALECK Wireless are great for receiving calls using voice control and listening to music. These headphones are compatible with a range of helmets.
Happy shopping!
We hope we could inspire you to update some of your ski gear because there is no doubt that some of the ski accessories that are on the market right now will increase both your safety and your enjoyment of the sport. When looking for new ski gear for the 2022/2023 ski season, remember that the most important consideration is to know what you want to achieve and then look for the functionalities and features in the items you are after. A little research helps to work out what product is the best fit for you.
About the author:
This article has been written by Single Parents on Holiday in collaboration with Roni Davis, a writer, blogger, and legal assistant operating out of the greater Philadelphia area. She writes for a divorce mediation attorney.